A Culture Filled March Weekend in Bern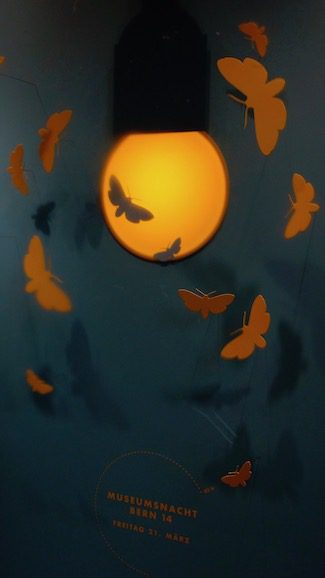 Back in 2014, I was fortunate to end up in Bern, Switzerland on Museum Night – Museumsnacht Bern. I had not planned this. I was visiting for Jazzfestival Bern at Hotel Innere Enge, and my head was focused on music, but boy of boy, am I ever glad I did arrive there on that day in time to partake in this annual event. It really was quite the night of stories, interactive art, history, music, and so much more. And I say this with starting the whole night off overly exhausted and a little bit homesick (missing my Dad and Grandfather whom both would have loved Hotel Innere Enge), before having one of my best night's in Switzerland.
I was having one of those travel days where despite feeling so very fortunate, learning so much, experiencing things that many people never have the opportunity to and with the benefit of my own personal guide, it all felt too rushed and overly scheduled. I'd barely managed to drop my bag off at the hotel before racing to catch the bus, knowing I was going to be late for the guide who was waiting for me. Not to worry though, according to my schedule, I should be done the tour with time to return to the hotel, change into warm clothes for the evening, have a bite to eat, and come back to Museum Night refreshed. Of course this did not happen. My tour of Bern's old town, which was wonderful, only finished when it did as Museum Night was starting. My guide, as I so often find in my Swiss travels was outstanding, incredibly knowledgeable, and indulged my numerous questions with side excursions and deeper exploration. This meant that as we arrived back at the central headquarters for Museum Night, she was worried I needed to hurry up and get in a line – and reasonably so as the lines at the various cultural stops had begun to grow as we'd been out exploring the old town of Bern. Meanwhile, I was worried about my rumbling stomach (while the local pastry I'd had in Lucerne was delicious, it was no substitute for lunch or dinner), being cold all night, and not being sure where to start or which line to get into.
Slowing Down and Crafting a Plan for a Fantastic Night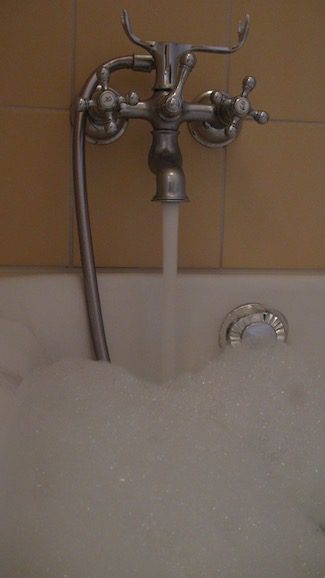 As I said my thank yous and goodbyes to my guide, I made one of those all too wise decisions that we so often forget to make while travelling for fear of missing out, I stopped and thought. I needed a game plan, and in order to make one, I needed to first address my growling belly. That first issue was easy enough to resolve, thanks to delicious sausages and beer close at hand in the street for the evening festivities. As I ate and drank, leafing through the Museumsnacht Bern guidebook, I made the next wise decision of the night, again letting go of any fear of missing out, I decided to fully enjoy the night, I needed to be properly dressed to keep me warm, especially if I'd be standing in long lines. This meant returning to my hotel, and rather than running in and out, I decided to leaf through the Museumsnacht Bern guidebook to come up with a plan for the night from the warmth of a hot bath, easing back the pain of my weary body. Being careful not to linger too long and transgress into sleep, I outlined a plan for the night.
My Museumsnacht Bern Plan
While I knew there was no way that I'd be able to see it all, especially as many of the museums had a number of their own special events scheduled within, I decided to focus on the museums across the Aare River from the old town of Bern, as I had not visited that area during the day and as those museums held the most interest for me. They included Alpines Museum der Schweiz (the Swiss Alpine Museum), Bernisches Historisches Museum (the Museum of Cultural History), and Naturhistorisches Museum Bern (the Museum of Natural History).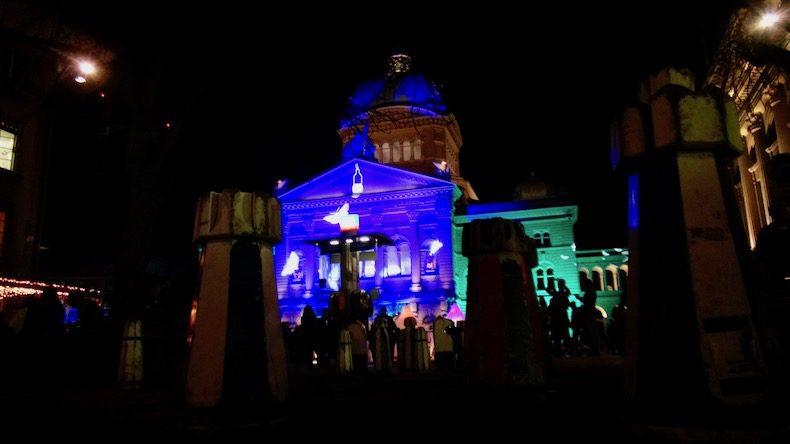 While I had to stop my curious compulsions along the way, of "Oh, what are people queuing up for here? Should I get in this line?" I enjoyed my evening walk through the streets of Bern that were alive with people, excitement and festivities. It was fun to be out and about at night, enjoying a shared activity with both locals and visitors alike, taking in the light shows, music, classic cars, and more as I walked to the Kirchenfeldbrücke (Kirchenfeld bridge).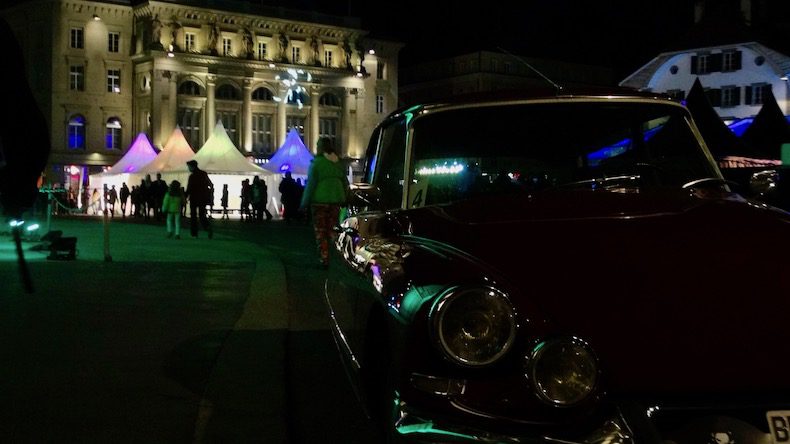 In crossing the bridge, I left behind the old town of Bern to arrive in Helvetia Square in the Kirchenfeld District on the other side of the Aare River. Before me lay my three museums of choice and more.
Alpines Museum der Schweiz : Museumsnacht Bern Stop 1
I turned right towards Alpines Museum der Schweiz (the Swiss Alpine Museum) first. My hope with this museum was to experience a bit of alpine culture that I was not getting on this visit to Switzerland, and to enjoy some traditional Swiss food. I got this and more! The thing I loved about this museum was how interactive it was, in that visitors get to learn and experience alpine stories and culture in many different creative ways and forms. This is a great place for both small and big kids, as it is designed to fully immerse yourself into by touching, doing, listening, watching, and creating. As I walked up to the museum, I could see families involved in a cairn building challenge in the square out front.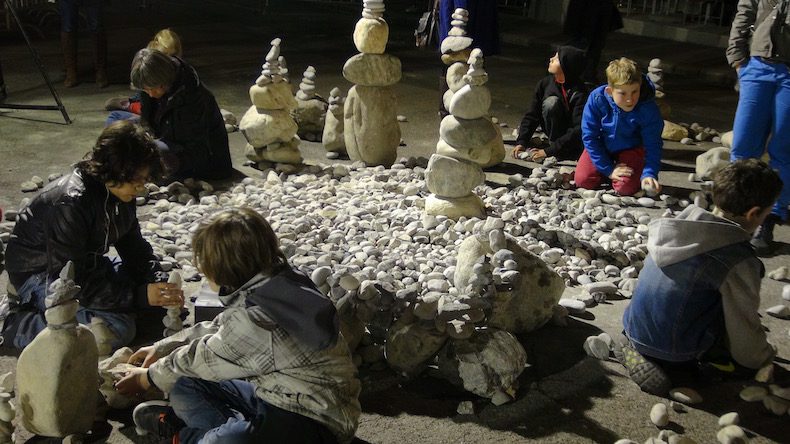 Inside I was able to experience this myself as I visited the various exhibits learning about Swiss Alpine culture. This came complete with the warmth and hospitality of Swiss Alpine culture as I sat down to a traditional Swiss alpine meal at one of the long tables in the cafeteria, where I enjoyed the welcoming company of local Bern family, who were seated beside me.
Bernisches Historisches Museum : Museumsnacht Bern Stop 2
Next I wandered across Helvetia Square to quite a stately building (sometimes described as castle-like), Bernisches Historisches Museum (the Museum of Cultural History). In entering the doors, I was greeted with a gentleman in period clothing that acted as a bit of a Town Cryer or Paige with an official message to deliver. It certainly set the scene for my visit.
Feeling a bit weary on my feet, I decided to join the gathering in one of the galleries to observe an interactive art demonstration, as Roman Müller performed the art of Sanddorn Balance. The mix of types of experiences that could be had and enjoyed in different ways is one of the things I love about Museumsnacht Bern. From being an active participants, to sitting back and enjoying, to nerdily learning, to enjoying tasty treats and libations.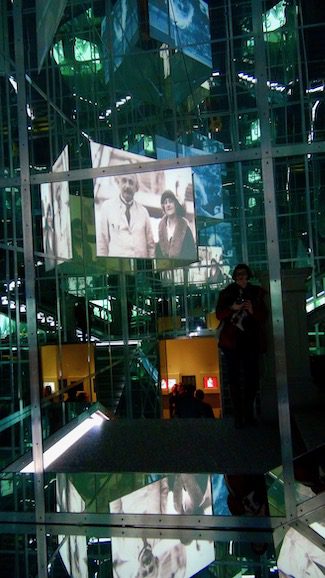 Afterwards, knowing that if I still wished to visit the Naturhistorisches Museum Bern that I needed to limit my time at the Bernisches Historisches Museum and could not possibly see everything. I decided to focus my visit around the Einstein Museum, paying homage to the scientist in me, and learn more about Einstein's connection to Bern and to Switzerland. I am so glad that I did, as this exhibition was superb. When back in Bern, I'd be tempted to visit all over again or to visit Einstein's former residence in Bern, Einsteinhaus.
Naturhistorisches Museum Bern : Museumsnacht Bern Stop 3
To end my night, I wandered around the corner to the Naturhistorisches Museum Bern (the Museum of Natural History), which is a place I'd one day love to return to, as I feel I only just got a tantalizing tease to this incredible museum. Despite it being well past midnight at this point of the evening, I thoroughly enjoyed the humour and artistic whimsy with which I found the exhibitions within Naturhistorisches Museum Bern. And as I grasped that I only had just begun to enjoy what the Naturhistorisches Museum Bern had to offer, let alone the additional offerings of Museumsnacht Bern (like the hot tub and tiki bar in the Museum's courtyard), it was 2 am, and time for the museum's doors to finally close for the night.
Even the Walk Home was a Festive Experience
Joining the last of the Museumsnacht Bern revellers I wandered back across the Kirchenfeldbrücke to the old town, enjoying an unexpected performance by street musicians along the way. Just be forewarned that if you, like me enjoy the festivities until the Museumsnacht Bern closing, there will be quite the cue at the bus station at the night's end, and the bus routes, given the late hour, might be a wee bit different … something that I learned the hard way, after a half an hour of riding the wrong bus in the wrong direction.
My Tips to Enjoying Museumsnacht Bern
Based on my experiences, here are my tips to enjoying Museumsnacht Bern:
Even if you attend for the entirety, you can't see it all, so create a plan by reviewing the program in advance of your top picks for the night.
Don't be rigid on your plan. Leave room to be open, enjoy the moment, and let the night lead you where it will.
If you wish to visit places that are not normally open to the public, like Zytglogge (the clock tower in Bern's old town), then cue up early.
Dress warmly and be prepared in case of rain.
Pack a raincoat or umbrella, a water bottle to fill up in the fountains, spending money, a camera, a snack, the Museumsnacht Bern guidebook, and a swimsuit (in case a museum randomly offers a hot tub).
Wear comfortable walking shoes.
Check what time the last bus runs, and if the routes change after a certain hour.
Enjoy! I know this is an experience I hope to have again in the future. I imagine many people go yearly, and can enjoy a different experience each time. And who knows, you may not even have to deal with cueing up in a line, in the end I did not stand in a single line all night.
Share Your Museumsnacht Bern Stories
If you have personally enjoyed Museumsnacht Bern and would like to share your stories and advice on, we'd love to hear about them in the comments below.
Planning to be in Bern for Museumsnacht Bern? Pin this post to return to for tips for your night.