Traveling overseas is expensive – tickets, accommodation, food and travel throughout – how could one not be budget conscious? Traveling and visiting sights as a student is tough, but very possible! Here is my guide to being Bougie On A Budget in Paris, where you can stay, eat and make meaningful memories while saving a few euros along the way.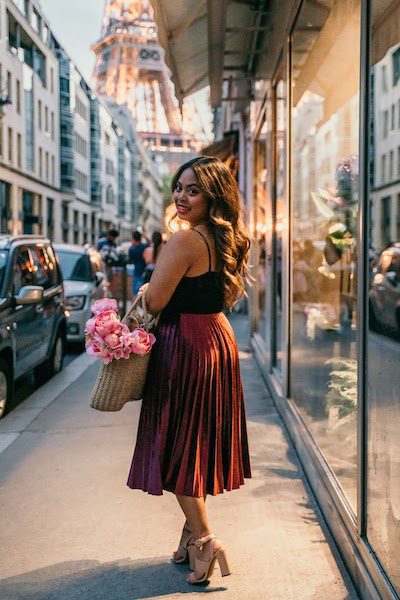 Accommodations
This depends on traveler to traveler, as many tastes and opinions differ when it comes to the amount of privacy, foot traffic, nearby attractions and public transport, etc. For those traveling with families of small children, this can add up quickly, but if you are solo traveling, or with a group of friends who don't mind the hostel life, I would definitely recommend this route. There are a ton of well-kept hostels in great neighbourhoods very close to transit. I stayed in a chain of hostels called THE PEOPLE (one in Belleville area and one in Nation). These hostels are kept very clean with wonderful concierge/customer service who are used to working with foreign travellers.
They offer secure storage for belongings by your beds if you are choosing to only book a single bed, but also offer private rooms or girl only dorms, etc. In these beds, they have their own shelves, plugs, lamps and a thick privacy curtain – you feel like you are in your own room at times! This hostel also offers cheap buffet breakfasts (about 6 extra euro a day) that could help keep your stomach full until the afternoon. Those traveling for work are in luck as they have beautiful vibrant seating areas by the restaurant/bar with strong WIFI signals! This hostel has about four branches in Paris and others around France as well. After staying in two of their sister hostels, I would definitely recommend staying at THE NATION branch. Though a bit far from the main attractions (Eiffel Tower, Notre Dame, etc.) it makes up for class, train convenience to the airport, and the surrounding restaurant scene. They are well worth checking out for those weary travellers who want to feel like you're being taken care of in a clean, beautiful, comfortable environment, while taking advantage of hostel pricing (starting from 19 euros a night).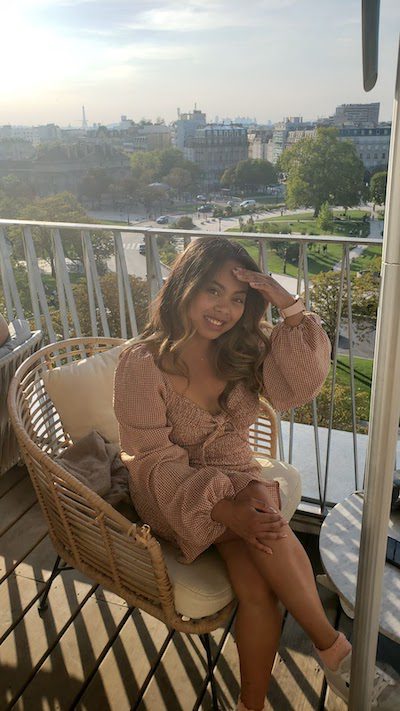 Food
The best way to travel is through your stomach – truly! I am not going to lie, I am a novice when it comes to French cuisine but absolutely fell in love with their cafés and pâtisseries! If you're not taking advantage of the cheap buffet breakfast at your hostel like me, or want to dig into a filling lunch to get you through your afternoon of wandering, the best place to wind up is a pâtisserie to take advantage of their FORMULE! A formule is basically a combo where they have set prices for a variety of options to choose from.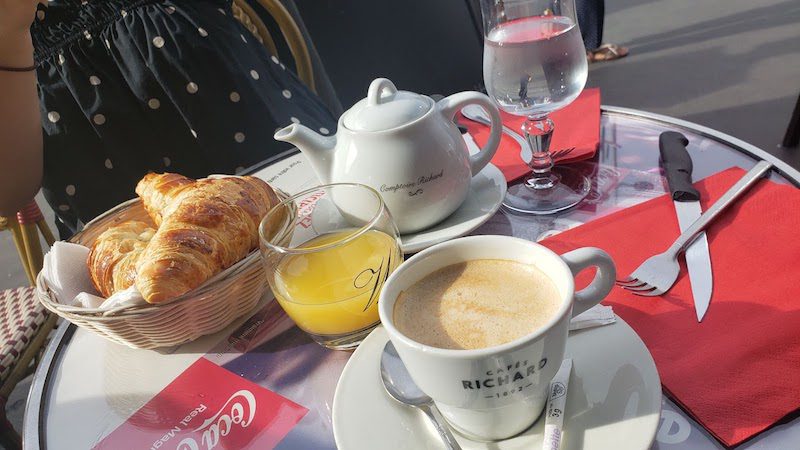 For example, 7.50-8.50 euro can get you a savory choice (like a baguette sandwich, which is the size of a full baguette), a sweet choice (like a beautiful tarte, small cake, etc.) and a drink of your choice (soda/water/coffee, etc.) To be honest with you, sometimes I even had to split my baguette sandwiches in half and it turned into a second meal/snack in the middle of the afternoon, so if that would be the case for you, it's an amazing deal. For those who want to go on the lighter side of formule, there are also options for either a single savory choice and a drink, or a single sweet choice and a drink, for less than 5 euros depending on the location of your pâtisserie. Patrons are more than welcome to eat inside or on their outdoor patios, or you can do what the Parisians do and sit at a local park!
I did this every day I could, and when I couldn't find any pâtisserie open, I went to the grocery store and got my own little dinner and brought it to the park. You'd be surprised to see how many Parisians love to eat and picnic at the park, even for dinner! If you want to experience a restaurant feel and want to spend a bit more, keep an eye out for restaurants that offer a formule for dinner as well. I went to the oldest cafe in all of Paris called LE PROCOPE, where the notorious Napoleon himself dined! Fun fact: Napoleon was so cheap that he left his hat as collateral when he skimped on the bill. It is safe to say that Napoleon did not come back to settle up his tab. Napoleon did, however, recognise a good place, as their dinner formule was set at a decent price for someone wanting to try a fancy dinner on a budget. Their formule for dinner started from 32.50 euros for a Main Course and Appetizer or a Main Course and a Dessert, or for 39.50 euros for an Appetizer, Main and Dessert. You are also able to buy a la carte on their full menu, but I thought this was a very reasonable set price for what you are getting, plus the restaurant was basically like walking through a picturesque museum on your way to the washroom! We got to see Napoleon's hat, the final letters between Marie-Antoinette and Louis XVI, Voltaire's marble top desk, and revolutionary wallpaper, just to name a few. It basically felt like a two for one entry fee dining here!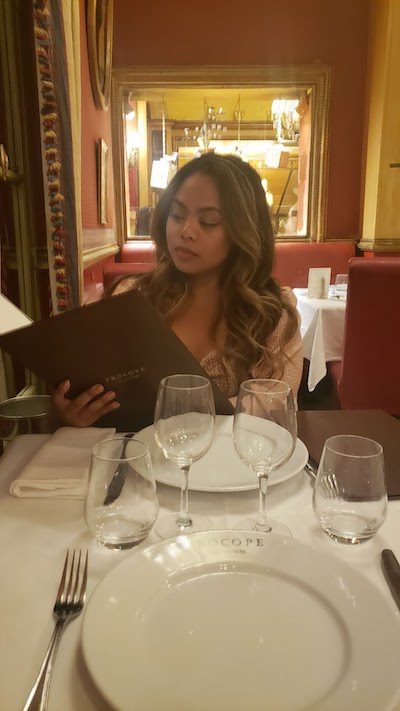 Activities, Souvenirs & Momentos
Activities
What to do in Paris on a budget? Once you have snacked on enough formule for the day, of course, one is set on their Parisian adventure! There are ton of things you can do for free in Paris, here are a few in mind:
One tip that I discovered by accident while I was looking through Airbnb for long-term accommodation as I was attending clown school in Étampes, was that you could book EXPERIENCES, as well as accommodations! As I began to sift through the options to book, I was blown away by the amount of activities locals were putting together for tourists. There were many tours on the list and I decided on a few niche options that peaked my interest:
Yes. It is a thing – and believe me, it is a very popular tour! After this Netflix sensation aired our streaming services through our televisions, this brilliant tour host put together all the top public locations where Emily In Paris was filmed! On my tour, I was a few weeks shy of actually seeing the cast and crew working on the production. Nevertheless, it was a beautiful experience. Our tour host, Fabien, was amazing and so knowledgeable about the area, the production, and was even able to order us a fantastic treat from one of the patisserie's located beside a well known restaurant used in the series. It was a long, hot day, but Fabien kept us entertained throughout our experience. This tour ended up being 47 CAD for three hours and I would highly recommend it!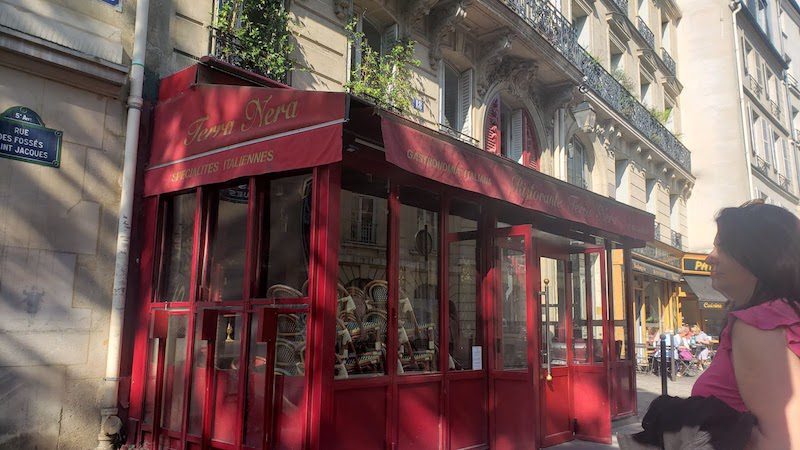 I actually booked this tour for my birthday and celebrated my birthday cycling through Paris and enjoying such beautiful sights. We stopped by some very cool, historic monuments, buildings and areas that were all so different in comparison to one another! Similar to the other tour, we also stopped at a patisserie for a break and enjoyed delicious macarons and coffee! I don't want to spoil any of the surprises you'll see, but as you can see from my face, I had the best birthday ever! This tour was 87 CAD total for four hours – but the experience itself was priceless.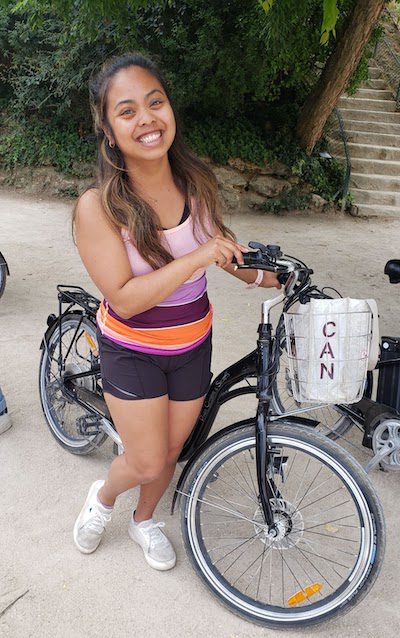 Other Super Cool Experiences On Airbnb:
Souvenirs & Momentos
As a female solo traveler, I knew that I wanted super cute photos to take back with me to Canada, but unfortunately, I had no one to take them! I found Yuliaa who offers Photo Walk In Paris on Airbnb Experiences as well, and I would 100% recommend you do this the next time you are traveling to a new destination! This cost me 180 CAD for 1 hour and 50 edited photos. Not only does a local know where to take the best photos, you get a little tour and a one on one walking guide full of personal suggestions that suit your tastes and needs! I definitely am treasuring the photos that I have taken to commemorate my solo travel experience. She also offers 30% off for couples/large groups!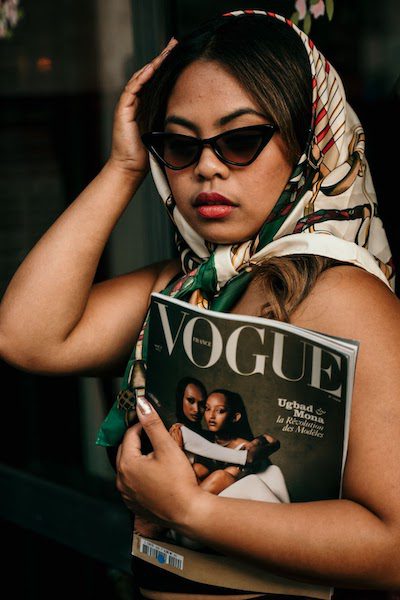 For take-home physical souvenirs, there are a ton of locals huddled around the top tourist locations walking around selling keychains, hats, purses, sunglasses, light up sticks, etc. These are not usually my thing to take home, but if it yours I would just stay cautious with your purse or wallet when exchanging items for cash, as the popular areas such as the Eiffel Tower, Sacré-Cœur, and even the subway stations are known for pick-pockets. Fun souvenirs I found myself buying for people are simple local French items from the grocery store such as a jar of caviar and tea! To each their own when it comes to bringing home any souvenirs or momentos. I personally love photos, show tickets, etc. to take home for memories, so those are often the items I take home.
I knew going in, buying my plane ticket to Paris, that I needed to be on a strict budget during my trip. Not to have a scarcity mindset, but it is very easy to fall into the trap of not knowing how to enjoy yourself if you cannot spend any money. I find this idea very false! The biggest take home of this experience is to find friends to do things with. If you're already traveling in a group, great – but if you're going solo like me, find like-minded individuals who will enjoy the same activities as you and do them! There is so much to do and see in Paris, but regardless of how many euros you shell out, it's important to remember that the experiences you remember the most are the ones that were spent with people you care about.
---
What Are Your Bougie on a Budget Suggestions for Paris?
You can further explore my guide to Paris and add your own bougie on a budget suggestions for Paris on the Atly map that we've created below. Or add your suggestions in the comments, and we will update the map with, with credit to you.