Join Anne and her sister Vera, as they explore the magnificent natural wonders of Iceland's Snaefellsnes Peninsula with Snaefellsnes Excursions at Grundarfjordur, the Second Port on their Oceania Insignia 'Atlantic Glaciers and Harbors' cruise.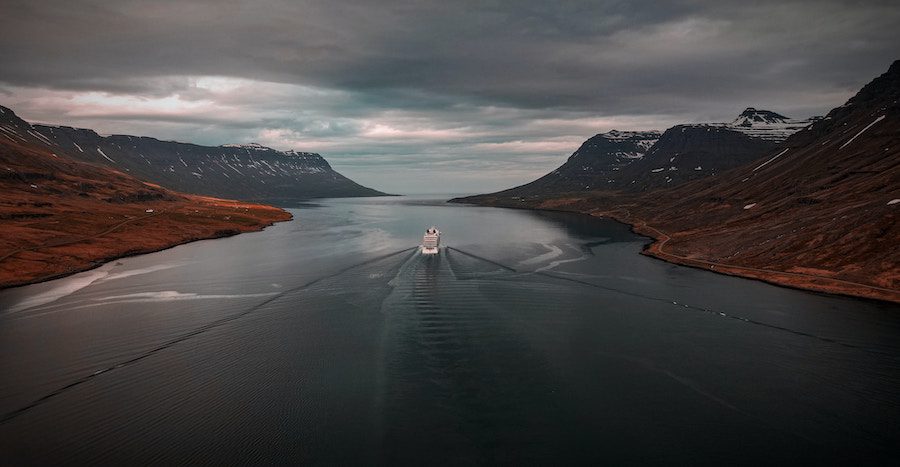 In Reykjavik we boarded the deluxe Oceania Insignia cruise ship, to begin a 17-day voyage called 'Atlantic Glaciers and Harbors'.
Discovering Iceland's Snaefellsnes Peninsula
The next morning we arrived at the port of Grundarfjordur, located on Iceland's Snaefellsnes Peninsula northwest of Reykjavik. We eagerly got ready for our first shore excursion, one of the longer ones of our trip.

It was a 5-hour bus tour entitled 'Highlights of Snaefellsnes', a particularly appropriate title as we would find out. Each part of this tour was one highlight after another of this spectacular peninsula, considered to be like an 'Iceland in Miniature' because it has so many features of Iceland's landscape all in this one area.
As we rode around the peninsula and viewed stunning volcanos and glaciers, we could see why Iceland is known as the 'land of fire and ice'. Our tour leader Elisa did a wonderful job of explaining the sights and telling us some of the history of Iceland. At each of the stops, we explored, marvelled, and took lots of pictures.
Malarrif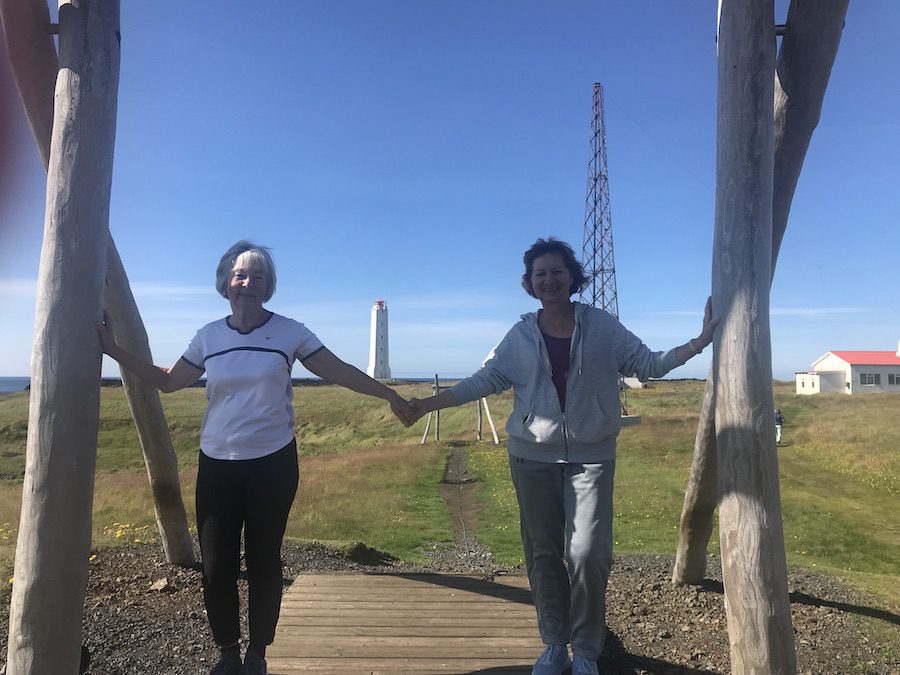 First, at Malarrif we wandered down paths and gazed at the wonderful wide open vistas in every direction. Around us were lava fields, nearby was a lovely lighthouse and black pebble beach, and as a majestic backdrop was the beautiful Snaefellsjokull glacier in the distance. The most remarkable sight, however, and the focal point of this area, were the impressive Londrangar lava pillars and cliffs – two huge lava formations by the basalt sea cliffs. Elisa told us that depending on which version you believe, this natural geological wonder was either formed by thousands of years of ocean waves battering these lava cliffs, or they were two gigantic trolls who roamed this area and one day were turned into stone.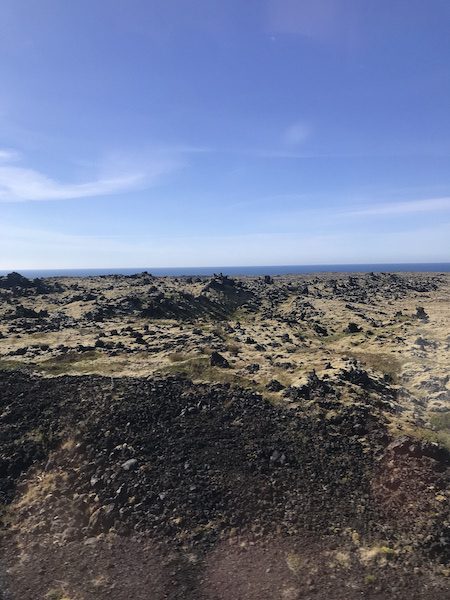 Arnarstapi
The next stop was a lovely little fishing village called Arnarstapi. Here we climbed paths leading right to the edge of absolutely breath-taking lava cliffs. As we strolled along these incredible cliffs, marvelling at the stunning scenery and eating some food we'd brought, we thought this had to be the most fantastic spot we'd ever had lunch!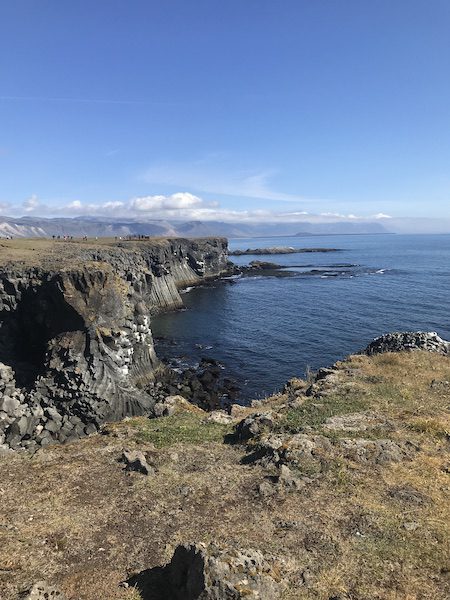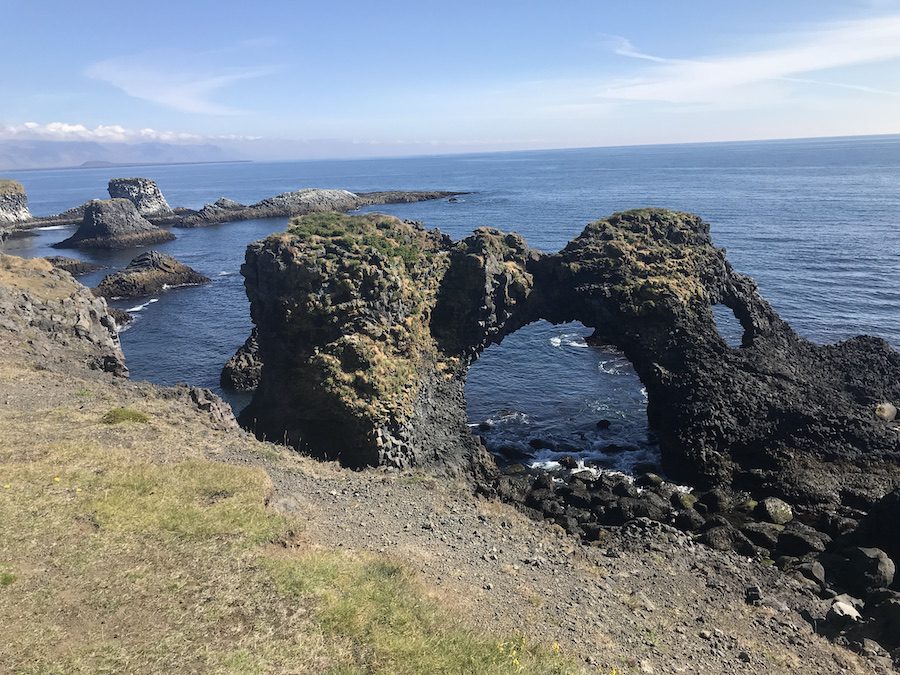 Saxholl Volcano and Snaefellsjokull Glacier
Further along at our next stop, we had the thrill of climbing right into a volcano crater! As we ascended the almost 400 heart-pounding steps up the side of the volcano, we stopped periodically to catch our breath and admire the view. Reaching the top of the thousands year old Saxholl volcano, we were treated to the most magnificent 360 degree view of the peninsula, and the Snaefellsjokull glacier now seemed even closer to us. We took some time to gaze in awe at both the view and the lava rock we were walking on, before making our way back down.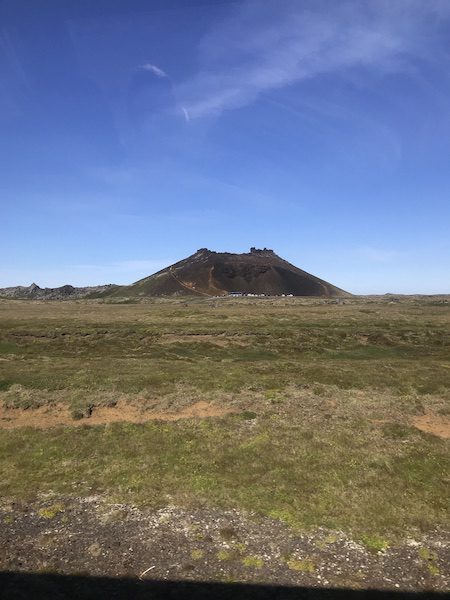 An interesting fact we learned from our guide, is that moss naturally grows on lava rock fields and helps to prevent soil erosion. Icelanders know not to disturb it, but apparently Justin Bieber did not, as he caused quite a controversy a few years ago by rolling on the moss while shooting a music video in Iceland.
Kirkjufell and Grundarfjordur
Then came our final stop – the iconic Kirkjufell mountain and waterfall. We could see this majestic mountain from our cruise ship and as we began our tour, but we were very excited to walk to the waterfall and get up closer to take some incredible pictures. Famous for its distinctive shape like a church steeple, Kirkjufell is considered one of the most beautiful mountains in the world. It was also famously featured on the 'Game of Thrones' TV series as 'Arrowhead Mountain'.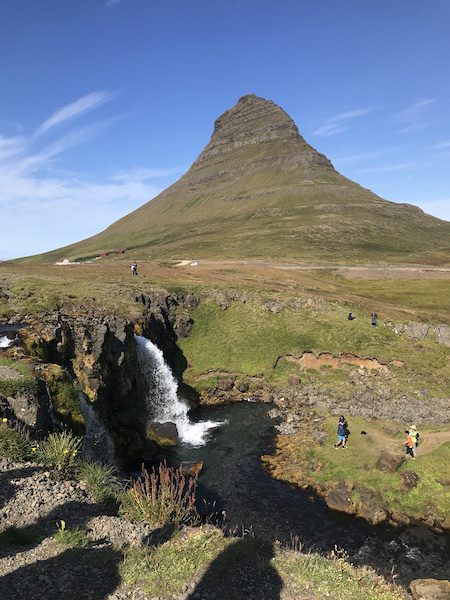 From our vantage point at the waterfall, there was also a lovely view of Grundarfjordur. A short while later we arrived back in the small town of only 900 people, where we had time to wander the few quiet streets and browse in shops. At one point we had a rather alarming incident when Vera became locked in a washroom in one of the shops, but afterwards it became a very amusing story to re-tell.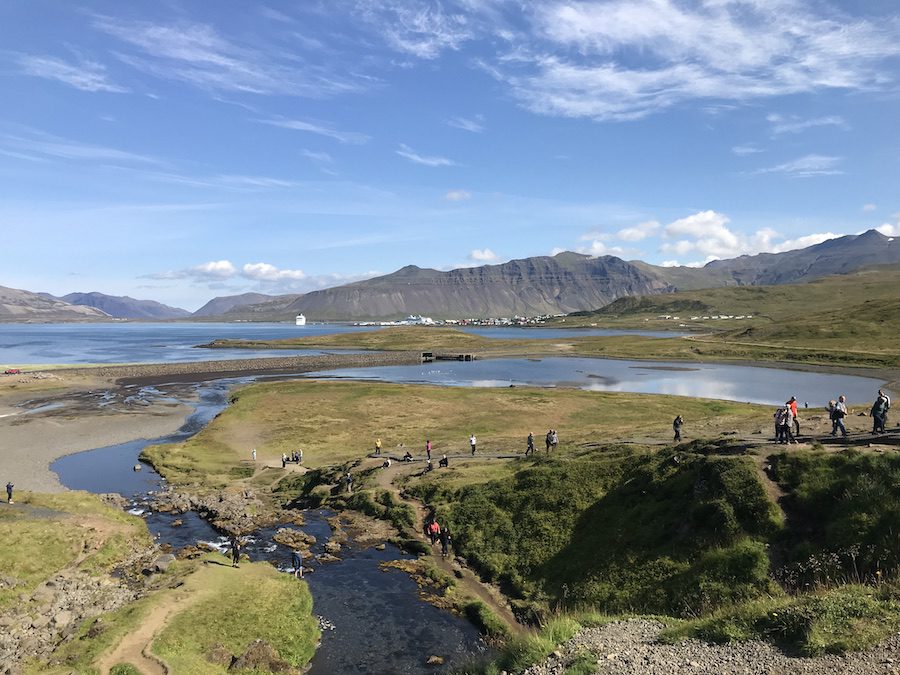 ---
Tips & Recommendations for Exploring Grundarfjordur and the Snaefellsnes Peninsula: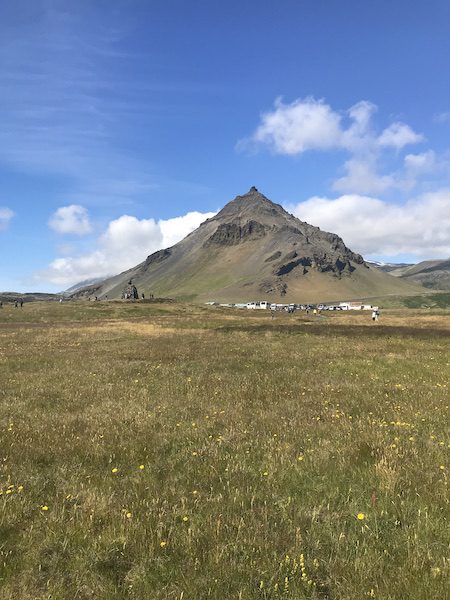 I highly recommend our bus tour 'Highlights of Snaefellsnes', which I booked online with Snaefellsnes Excursions.
My contact, Elisa Maccagnoni, sent excellent detailed information, responded to all my emails promptly, and also happened to be our wonderful guide for the tour.
Bring your own lunch to eat at Arnarstapi, so as to avoid crowded cafes and maximize your time at the beautiful sea cliffs.
Beware of using washrooms in which you use a key to lock the door from the inside!
---
Tune In To Our Full Adventure With Oceania Insignia's 'Atlantic Glaciers and Harbors' Cruise