Spectacular, awe-inspiring, extraordinary are just some of the many adjectives Anne uses in describing the amazing Oceania Insignia cruise she took with her sister Vera to Iceland and Greenland, 'Atlantic Glaciers and Harbors'. Follow along on their adventure through this blog series, starting with their first port in Reykjavik, Iceland.
There is a saying that 'Iceland is Green, and Greenland is Ice', and on Google maps you can certainly see this is true. Apparently we have the Vikings to thank for the funny mix-up in the names. This past summer during an amazing cruise to these two unique countries, I saw for myself lots of ice and green, but also so much more.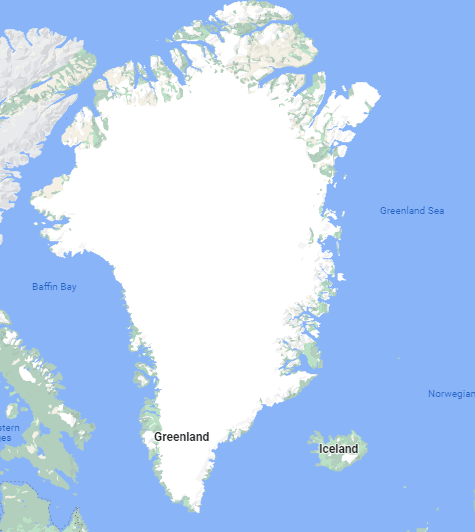 Spectacular, awe-inspiring, extraordinary are just some of the many adjectives I could use to describe this amazing cruise. Vera and I had so many wonderful experiences on our trip, and in my blog series I will share some of the highlights of what we saw, did, and learned, as well as some tips and recommendations in case you go there one day.
Discovering Reykjavik, Iceland
Our trip began with a 7-hour flight from Vancouver to Reykjavik, the capital and largest city in Iceland. Reykjavik has about 140,000 people, which is roughly one-third of the population of the entire country. From this you can gather that the rest of Iceland must have mostly small towns, and we indeed saw that for ourselves – a few small villages here and there amongst large expanses of green open spaces.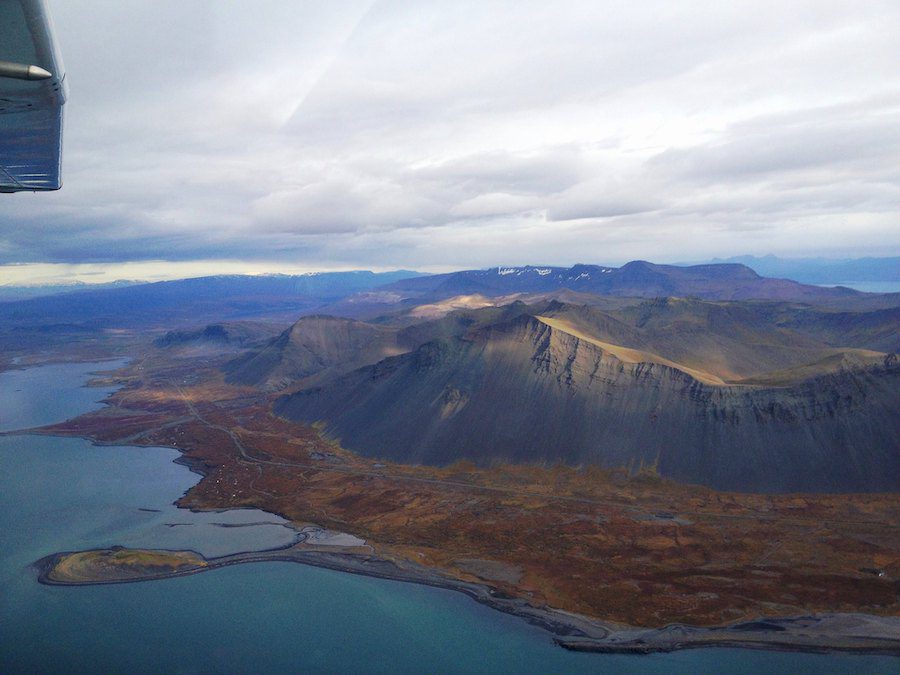 After our flight landed, we had a few hours to explore Reykjavik before boarding our cruise ship. We headed over to the downtown area to see some of the main sights I had read about, chuckling as we tried to read the funny long street names that Iceland is known for.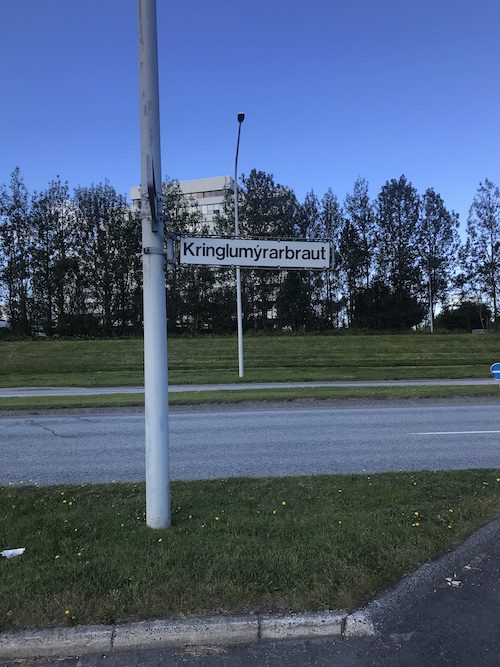 As we walked along a multi-use path, taking deep breaths of the fresh clean air, we were struck by how neat and clean the city was. Reykjavik looked like many modern cities, and had a European feel about it. Tall office type buildings were interspersed with simple yet colourful apartment buildings, many adorned with beautiful identical flower pots.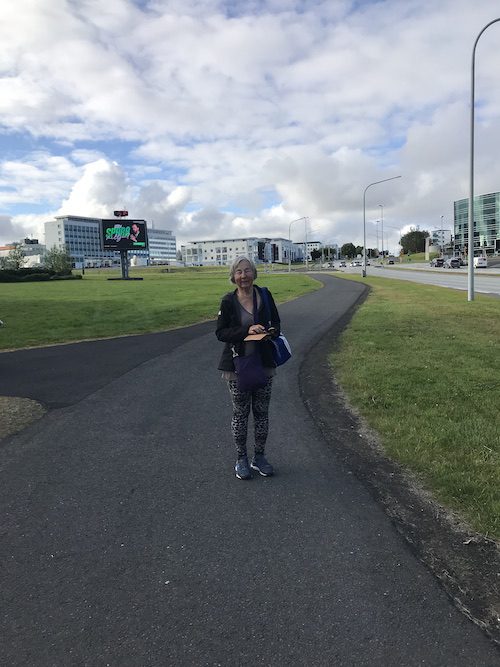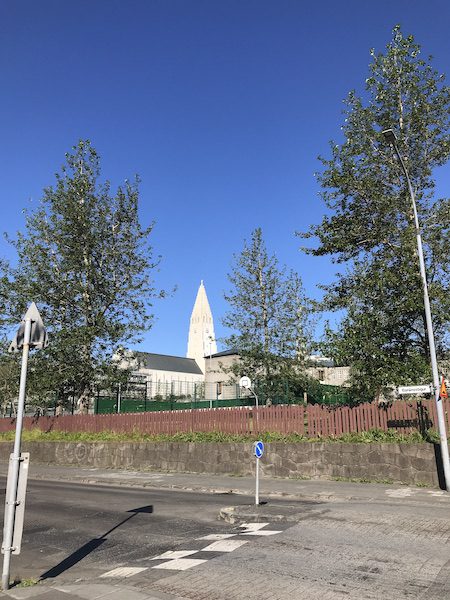 We did not even need a map to spot one of the main attractions, the majestic Hallgrimskirkja church. Towering over the city, it is one of Reykjavik's most famous landmarks and is one of the tallest structures in all of Iceland. With its unusual conic shape and side wings, it is symbolic of the volcanos, mountains, and glaciers of Iceland's landscape.
From there we wandered down to the waterfront area, browsing at the shops and sights along the way. The weather being unusually warm and sunny for Iceland at 20 C (average for August is 10-15 C), we were happy to spend the day outdoors.
As we approached the water we spotted the famous Hofdi House, where a major historical summit took place in 1986. The presidents of the USA and Russia, Ronald Reagan and Mikhail Gorbachev, met there to discuss an end to the Cold War. Other famous people who have visited it include Winston Churchill and the Queen of England. From our viewpoint, the historic white building looked especially lovely against the blue waters of the ocean.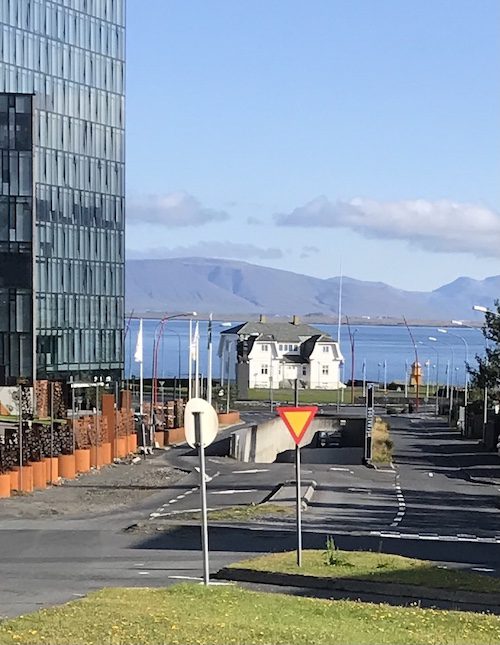 Arriving at the water's edge, we strolled along the scenic shoreline path and again took some deep breaths of the clean fresh air. In the distance we could see another prominent landmark, the award-winning Harpa Concert Hall. With its gigantic size, unique geometric design, and green glass exterior, it was impossible to miss – and later we could even see it from a long ways away as we left the harbour on our cruise ship.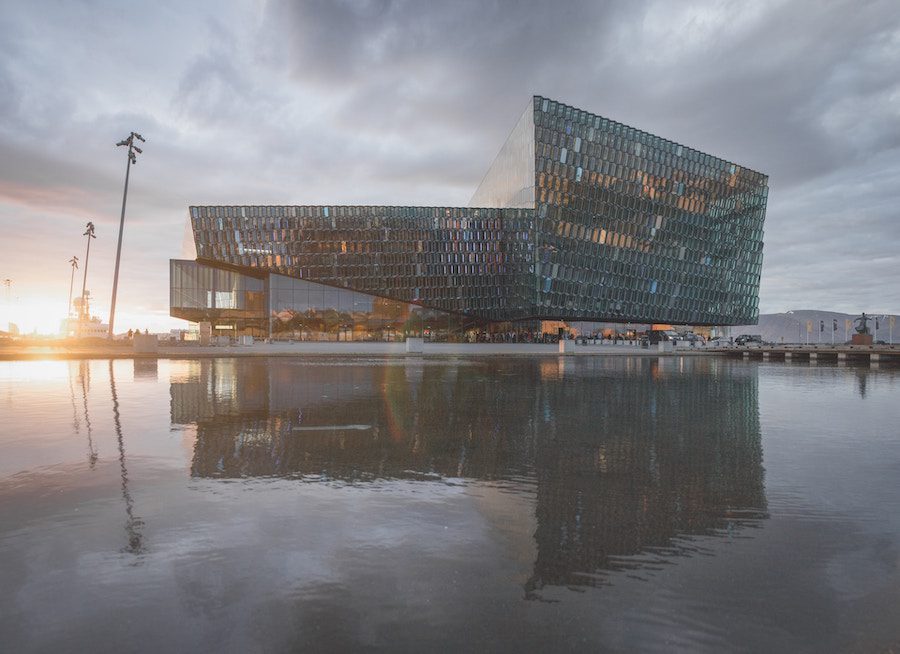 As we meandered down the path, taking in the spectacular views of the city and harbour, we could hardly believe we were actually in Iceland. It seemed another world away from our home.
Then, as if saving the best for last, we came to our final main sight to see in Reykjavik – the Sun Voyager – a strikingly beautiful and unique steel sculpture resembling a Viking ship. Known as an 'ode to the sun' or a 'dreamboat', it represents a dream of hope, freedom, and discovery, and was created to commemorate the 200th anniversary of the founding of Reykjavik. With the sparkling blue waters of the Atlantic as its backdrop, we could see why it is one of the most photographed statues in Reykjavik.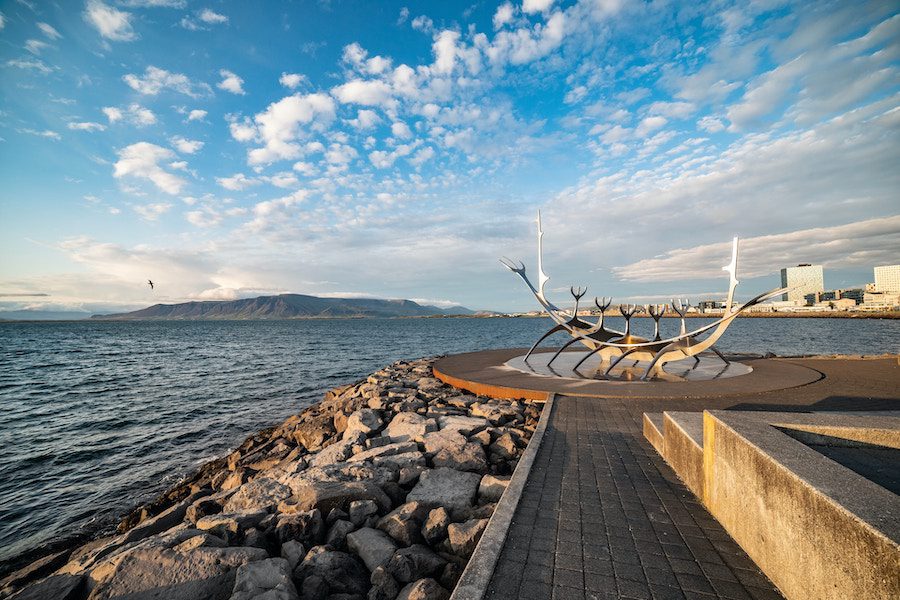 Finally, with those breath-taking images still in our heads, it was time to bid farewell to Reykjavik and make our way to our cruise ship, and the exciting start of a voyage to new and wonderful places.
---
Tips & Recommendations for Reykjavik, Iceland: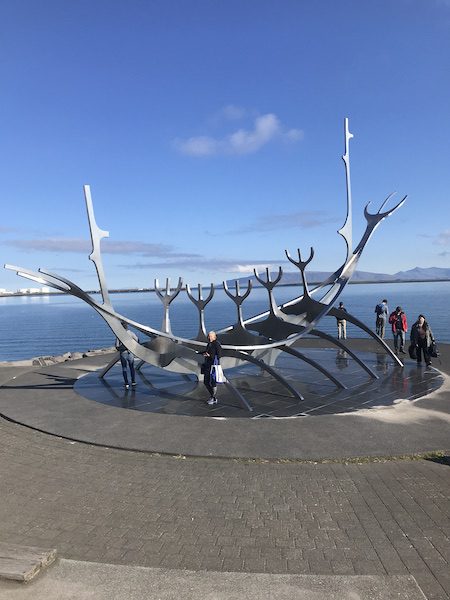 Reykjavik is a very walkable city, and the main sights mentioned here are in comfortable walking distance to each other.
To help you get around Reykjavik, ahead of your trip check out walking tours online and download a Google map of the city to use offline.
The Harpa Concert Hall or Sun Voyager would make good starting or ending points to your walking tour.
---
Tune In To Our Full Adventure With Oceania Insignia's 'Atlantic Glaciers and Harbors' Cruise