Last summer, after studying abroad in Bristol, UK, I went travelling for two months through France, Italy and Greece with my friend Chloe. Chloe flew in to England at the beginning of the summer and we met in Bristol before we began our travels. With her she brought an envelope from our friend Theresa which was marked not to be opened until we were together in England. Inside, we found a cut-out picture of Theresa and her boyfriend Steven mounted on popsicle sticks and a request from Theresa that we photograph the two on our travels in order to surprise Steven.
Theresa suggested posting the photos on Facebook but Chloe and I, inspired by the film Amelie, had the ingenious idea to print the photos as we went along and mail them back to Steven as postcards. As Steven had been left in the dark about the whole thing, he would have no idea who the pictures would be from, just like in the movie. The idea of Steven receiving a postcard of a photograph of himself and his girlfriend halfway across the world seemed wonderfully hilarious.
We started at Bristol's most famous landmark, the Clifton Suspension Bridge. It took a few tries to fit Theresa & Steven properly into the frame and we definitely got some stares as we took our photos – I'm pretty sure people thought we were some crazy tourists! We had to pack it in pretty quickly when it started raining and our pocket travelers started getting wet.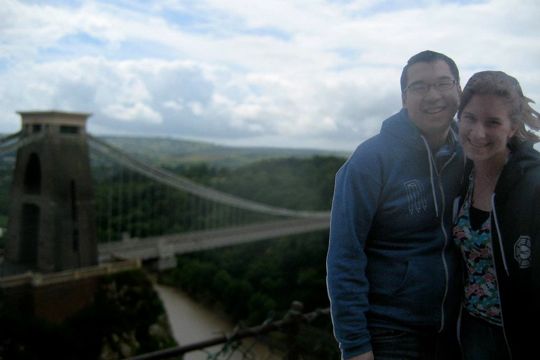 Our next photo came on a day trip to Wales. At Tintern Abbey, a medieval abbey near Chepstow, we took a photo complete with cows in the background. (Shame it wasn't sheep – kidding!)
Back in Bristol, we had the photos printed at Boots, but were unable to buy stamps before leaving for France. As a result, we were unable to send the postcards until I flew through England on my way home to Vancouver at the end of summer. This in fact turned out to be a good thing, as a postcard from Bristol would have immediately given away who the mysterious postcards were from.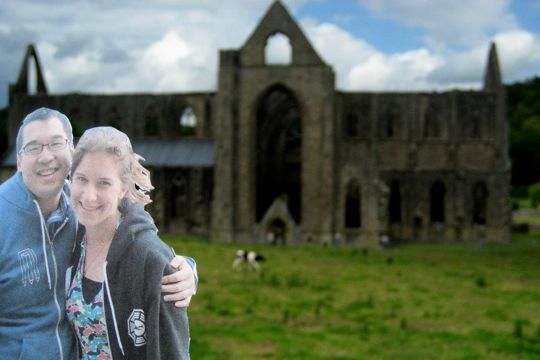 After travelling from Bristol to Paris, our next outing with the pocket travelers was at the Eiffel Tower. Despite their name, they in fact did not fit into our pockets, and we kept forgetting to take Theresa & Steven along with us in our purses. On our last day in Paris, we finally remembered and snapped a photo of the two in front of the romantic landmark.
Unfortunately, our next stops in France were in Avignon, Marseille, and Cassis, small towns where we could not locate a photo print shop. As a result, we weren't able to print the photo until we arrived in Venice, Italy. However, Chloe and I were determined to have the photo sent from France. Chloe still had one French stamp left from sending postcards in France and we thought it wouldn't be the same if Steven received the photo with an Italian postmark. As luck would have it, when we arrived a week later in Cinque Terre, we met an American named Kevin headed to Paris! After a bit of awkward explanation about the concept behind the pictures, we persuaded him to mail the photo for us from France. We sent the photo along with him and hoped for the best.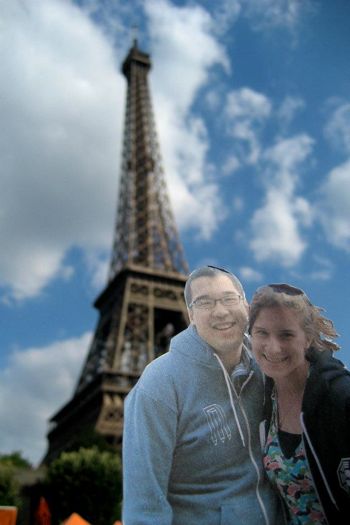 A week and a half later, we arrived in Rome and decided we had to get a photo of Theresa & Steven in front of the Trevi Fountain. Thankfully, the crowds tossing coins and taking photos in front of the fountain were preoccupied enough to not wonder what we were doing and we photographed our pocket travelers without a hitch.
Getting the photo printed was another story. The woman at the print shop was very kind, but because of the language barrier she thought I wanted all of the photos on my camera printed, rather than just the one. It took many hand gestures and both of us repeating ourselves countless times, but in the end we understood each other and I sent the second postcard off.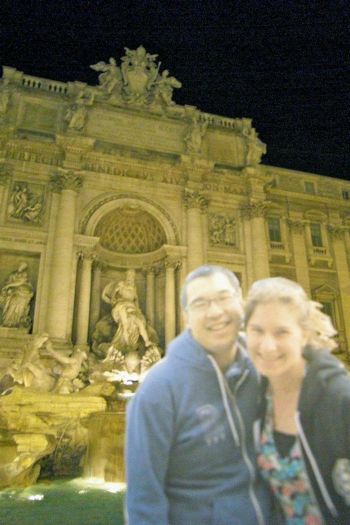 For our last postcard, we took a photo of Theresa & Steven at Knossos, the Minoan Palace on the Greek island of Crete. Originally, we wanted a photo at the Acropolis of Athens, but Athens was our last stop on the entire trip and we decided not to risk being unable to send it before leaving. As it was, the Acropolis turned out to be far too windy – our pocket travelers would have been swept right out of our hands! It was a good thing we had got our photo in Crete.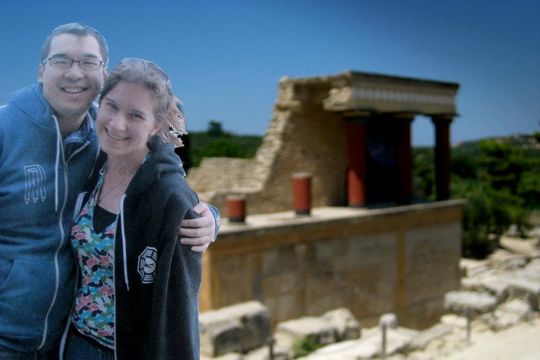 At summer's end, upon returning to Vancouver and reuniting with Steven, I immediately bombarded him with questions: Did he receive all the postcards? What was his reaction when he received the first one? Did he figure out who sent them?
Steven had in fact received all the photos! (Kevin, if you're reading this, thank you!) He had been highly confused at the arrival of the first photo as many of his friends were travelling in Europe that summer, but Theresa had filled him in when he'd asked. But neither of them had expected another postcard after the first… and then another and then another.
While the concept of pocket travelers may seem crazy to some, the amusement and hilarity that ensued around the Theresa & Steven cut-out ended up being one of the most fun parts of my whole trip. From taking the photographs, to finding a printer, to sending them off from the correct country, we had the best time with our little stowaways.