The last time I was in Miami, it was to embark on a short cruise to visit a friend who was working on a ship as a dancer.  This time, the visit was also with a friend, but to help her out with an event.  Totally different experience!  Last time, I only had one short afternoon to walk around South Beach.  This time, I stayed right on it.  Last time, I was sharing a miniature mouse size crew room.  This time, I was in a glorious room with a spectacular view that played out many stories.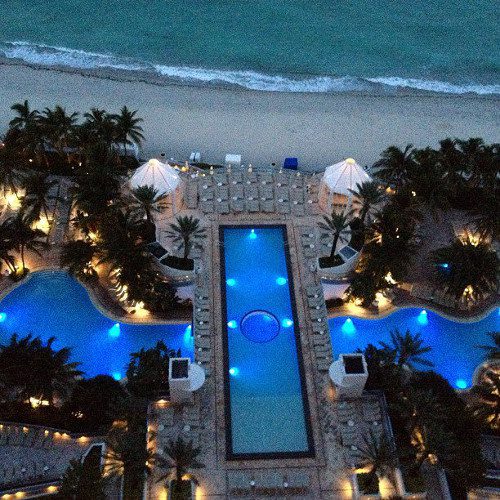 I managed to capture an extremely rare moment where the hotel pool area was empty.  This pool was open 24 hours a day, 7 days a week.  During the day it was filled with families.  I would sit at my window and watch the faces of parents, worn with daily stress of work and life's challenges, soften to sweet peace as the first minutes of vacation set in.  I could see children laughing and screaming, and of course, getting scolded for running on the deck.  The spirit was definitely lively down there!  Spontaneous games of water tag, races, and hilarious synchronized swimming routines would occur every so often as well.  It's funny how well we can get along with strangers when we're on vacation.  If only everyone could carry this same energy back home.
A little later in the afternoon, the hungover party crowd would start to emerge.  It's not hard to miss them.  Pretty much anyone with a slow walk, head down because even with sunglasses it's too bright, and looking lost and kind of angry that it's taking so long to find an available chair to flop down, on fits the bill.  I understand why they feel the way they do.  At night I would see them in full force, hitting the pool after a crazy night in South Beach.  The people on the lower floors definitely got a good show!
Since I was in Miami to work, my own indulgence came from soaking in the tub.  I loved that there was a 'window' to the room and that I could still see the outside sky.  I could see a plane with a long banner flying by.  I wondered if it was a grand marriage proposal gesture for some lucky girl, or a sign beckoning visitors to happy hour somewhere.  I have to say, I don't enjoy tubs that are confined to tiny bathrooms.  It leaves nothing to the imagination!