To finish off our very animal-themed tour of South Africa, we visited a cheetah sanctuary. As amazing as sharks, penguins, and safaris were, I think we really saved the best for last. Since returning from South Africa, every time someone asks me how the trip was, I respond with, "I touched a cheetah!" Clearly, it was my favourite part of the trip.
For our cheetah experience, we took a tour of the Ann van Dyk Cheetah Centre near Pretoria. The centre was started in 1971 to breed and rehabilitate cheetahs. Since then, they have taken in other animals and endangered species, like hyenas and wild dogs. On the tour, the guides explained that sometimes the centre ended up with animals unexpectedly. People would bring in injured animals they found or sometimes people would take in wild baby animals as pets, only to be unable to care for them when they grew bigger. As a result, the centre has grown beyond cheetahs.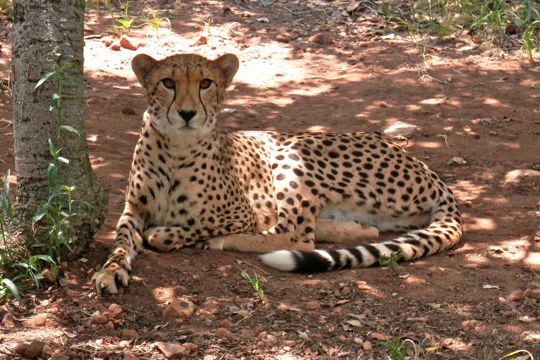 We were at the Cheetah Centre bright and early on a Sunday morning to watch the cheetah run and to take a three hour tour of the farm. The cheetah run, where they take the cheetahs out to run for exercise, only happens a few times a week since they want to keep it interesting for the cheetahs. We stood in a fenced off pen while the cheetah centre's guides brought out one cheetah at a time for their run. I couldn't believe how fast the cheetahs were. I mean, I knew cheetahs were fast, but seeing it with my own eyes was incredible. They were just a blur as they ran by.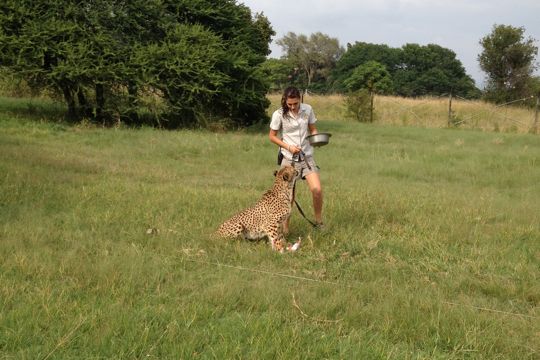 The guides brought out only female cheetahs to run, explaining that the females are solitary hunters, while the males hunt in packs, meaning they take turns to hunt and don't run as much as the females. Wanting to mimic the wild, they therefore don't exercise the males as much. However, that day they decided to run one of the males, Shaka, but warned us that lately he had been getting too distracted by the nearby females to run. They brought him out and started his run but sure enough, after a few feet, he turned and ran off to one of the female cheetahs. Ironically, the one he got distracted by was his sister.
We visited a few of the cheetahs in pens near the reception office before embarking on our tour of the farm. We headed off in a truck, and went to visit even more cheetahs and a myriad of other animals. We stopped to visit some king cheetahs, who had bigger spots and stripes running down their back. Once thought to be a subspecies of cheetahs, the centre had determined in the 80s that it was in fact a recessive gene that caused the different pattern.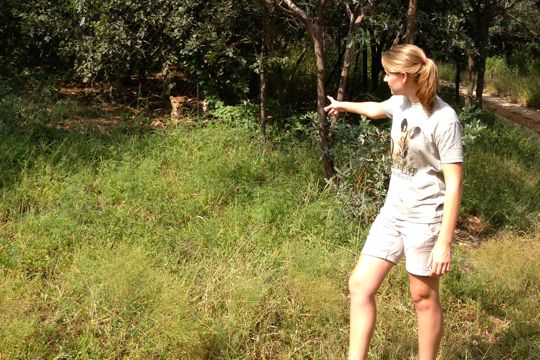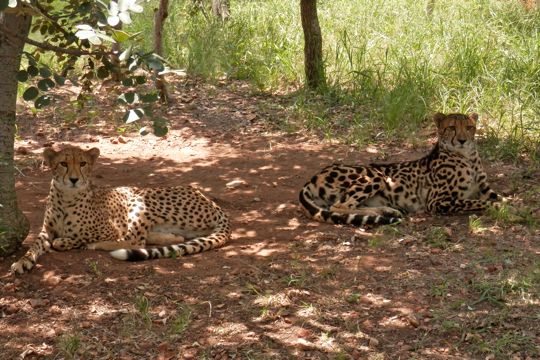 Then our guide took us to see "the most dangerous animal on the farm." This turned out to be… the honey badger. Looking at them, they appeared perfectly harmless but according to the guides, they were absolutely vicious. They had no natural enemies or predators and they were even known to attack lions. Their cages at the centre even had a separate section for feeding so that the centre staff were never in the same cage as the honey badgers.
After the honey badgers, we visited the meerkats. There had originally only been two, but they had accidentally bred so now there were four. They were quite cute and much friendlier than the honey badgrs. Our guide even stuck her finger into the cage to scratch one of the meerkat's head.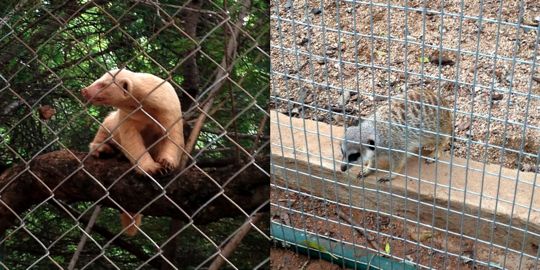 Next, we saw vultures and hyenas. Vultures are an important part of nature; by cleaning up the carcasses of dead animals they help prevent the spread of disease. However, vultures are vulnerable to extinction because of loss of habitat and electrocution and collision with powerlines.
I was particularly excited to see hyenas, since we hadn't been able to find them on any of our safaris, and you can't properly re-enact The Lion King in your head without seeing hyenas. Unfortunately these hyenas weren't quite up to marching around, preferring instead to sleep.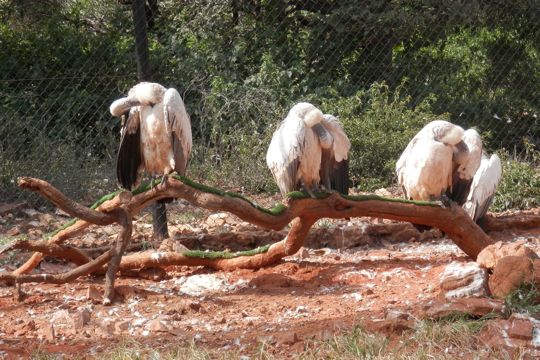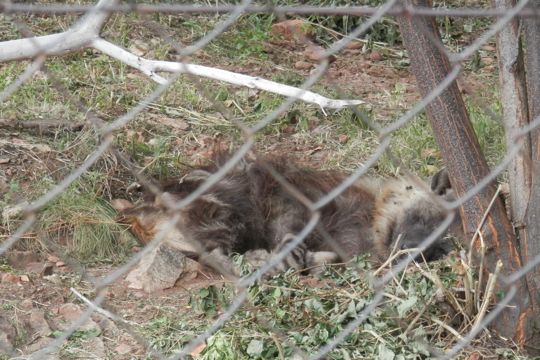 We then went to visit the wild dogs. Wild dogs are endangered due to human persecution. Widely regarded as pests, wild dogs have been poisoned and snared for decades. Now, there are less than 5,000 wild dogs left in the wild. These dogs at the centre were scrappy little animals, eating every bit of food in the trough before running off and looking for more.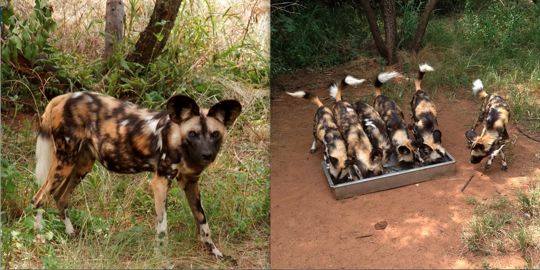 After feeding the wild dogs, we went to feed a few cheetahs. As they noticed the food coming, they started hissing and their fur stood straight up! I was so nervous, but the farm worker coolly poured their food into a trough, taking no notice of their menacing stance. Once he was back on the truck, the three cheetahs surrounded the trough, all threats gone.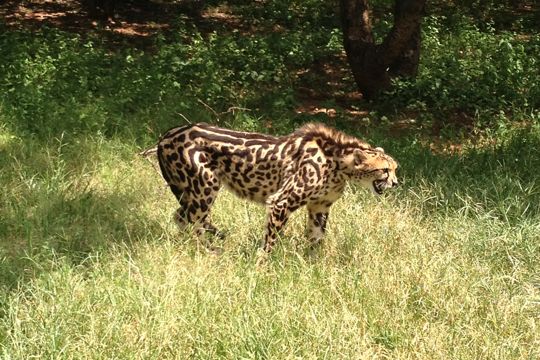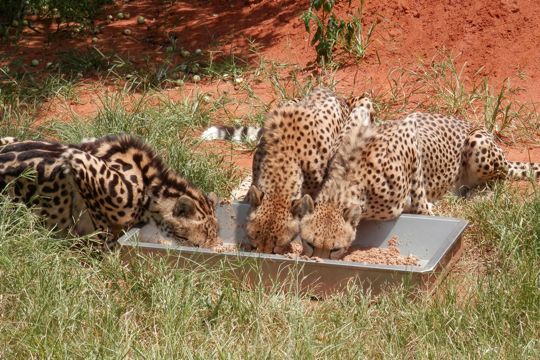 After the tour, we had the chance to pet a cheetah. The guides brought out Byron, one of their Education Ambassadors. Byron is often used at schools and with children during educational talks. They led him onto a table and we were allowed to approach him from behind to stroke his soft fur. I was so happy to finally be touching a cheetah – it felt like I had been waiting the whole trip for that moment. I could even feel his body vibrating as he purred.
After petting Byron, we left the centre very happy. I couldn't help saying, "We touched a cheetah!" again and again as I thought about it. I didn't even mind that we were leaving South Africa the next day.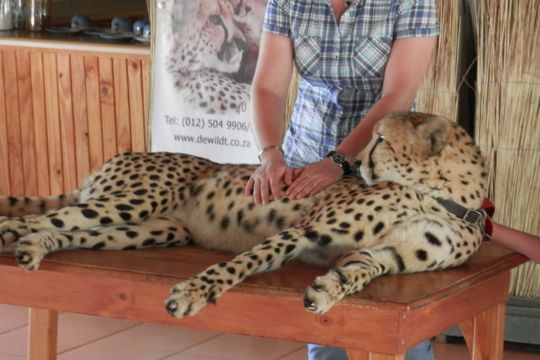 Disclaimer: This post was not sponsored by the Ann van Dyk Cheetah Centre. My opinions are my own.