Humbling magnificence gazing down at the Luxor Temple.

"Egypt? You're kidding"
"Isn't it dangerous?"
"You had better cover your head."
These were the reactions I got when I told people I was going to Egypt. I was apprehensive too, when I got the invite to join a group of scribblers. But I had been there before, six years ago, and I had always wanted to return.
Why? Was it the gigantic statues of Pharaohs looming over the land like ancient guardians? Was it the sunshine and warmth, after a winter of relentless cold? Curiosity about what is now called 'The Revolution', followed by the election of an Islamic Brotherhood leader? Followed by his ouster.
All of the above and more, most likely. Still, I kept wavering. The itinerary was late, too. This was going to be the kind of trip where you throw things into a suitcase the night before and hope you haven't taken all the wrong clothes.
It began on the River Nile, the lifeblood of Egypt. Our floating hotel was the Sonesta Star Goddess, a super-chic boutique ship with 33 suites, an interior circular staircase and a deck where tea is served at 5pm.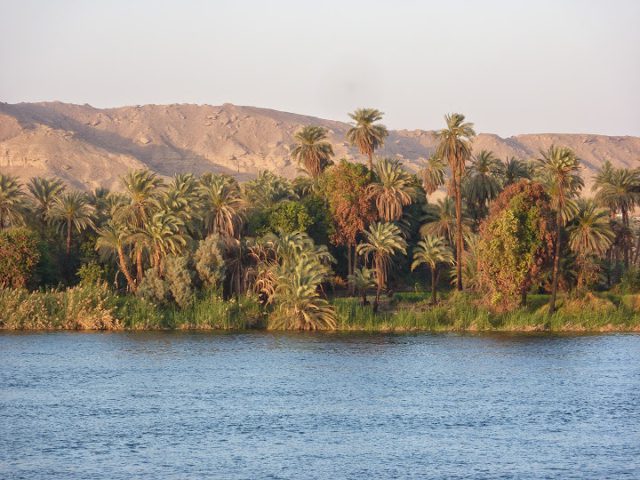 There were few tourists. Yet there was a kind of "show must go on" spirit. The buffet dishes were laid out impeccably, the many salads in a circular display that provided a healthy first course. One night there was a belly dancer and a live band, even though the audience was sparse. Danger? That was the last thing we thought about.
More pressing was the shaky internet connection, which brought me to the nice guy at the desk. With an open smile that seemed typical of so many Egyptians, he connected my computer and solved a nagging old software problem. Then he told me about some must-see murals on the walls of German House in Luxor, one of the ship's main stops. They were painted by the noted protest artist and teacher, Amrar Abo Bakr, whose work this guy wanted to show in a gallery he was hoping to open in Luxor. The problem: an extreme drop in the number of tourists. They were scared by recent events, beginning with the revolution of 2011, when Egyptians occupied Cairo's Tahir Square, ending decades of the Mubarak rule, "Of course I was there", my new friend smiled knowingly. Indeed, every 20-something person I talked to said they were at Tahir Square, and they were not afraid to speak their minds about the aftermath and the current situation.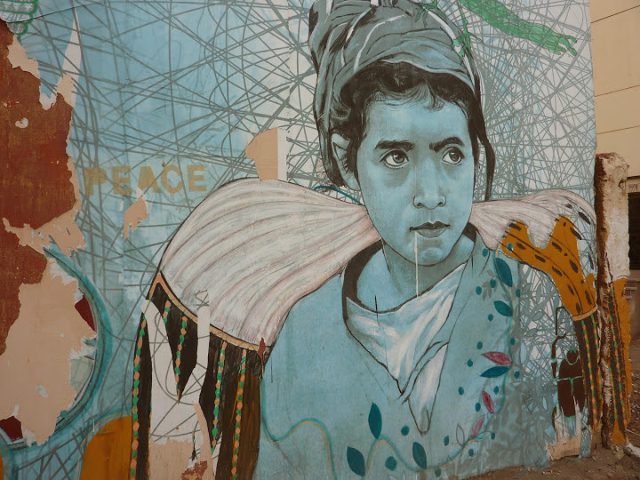 "What we learned is that we can get rid of a dictator. It could happen again", he said, explaining that while the Islamic Brotherhood government of Mohamed Morsi was unacceptable, that doesn't give the current government the right replace it with a new dictatorship. "After 7000 years of civilization, the military thinks they can control the nation?"
Parts of that civilization were visible at every stop we made. There was the Temple of the Goddess Isis, built on an island. At another stop, we saw the Temple of Kom Ombo, with its courts, halls, sanctuaries and rooms duplicated for two sets of gods. In one of them was the crocodile god, Sobek, preserved in numerous crocodile mummies. The northern part was dedicated to the falcon god, Horus. So many animals and birds populated Egyptian culture and religion.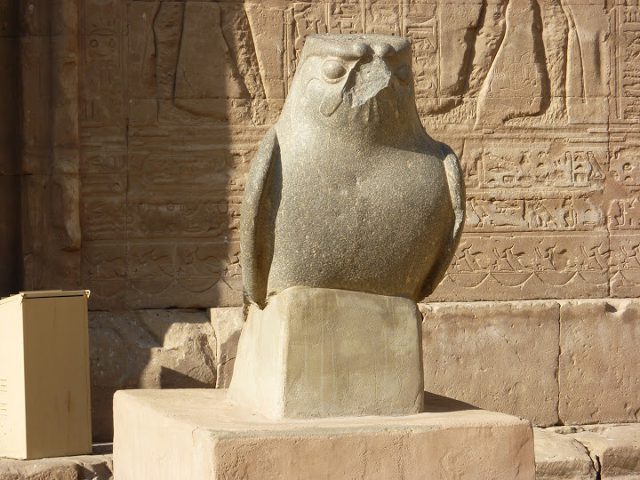 But what really makes Egyptian history come alive for me are the stories of people, especially women. The goddess Isis and her brother/husband, Osiris, their son, Horus, who was murdered by his uncle and then brought back to life. The cross-dressing female Pharoah Hatepshut, who ruled for 20 years. Cleopatra, who came much later, and is claimed by both Egyptians and Greeks.
Egypt's history is filled with conquerors – Christians, Romans, Greeks. It had many famous admirers, too, including Alexander the Great and Napoleon. Who wouldn't be wowed by Luxor, called Thebes by the Greeks, an open air museum, with blocks and blocks of temples and 60 foot statues in the middle of the city. The bas-relief pictures on walls, tell stories, many about journeys on boats, with fish that looked like something I had seen on my plate. These boats show travels along the Nile – or to the afterlife.
And what better view of the way the Egyptians revered the afterlife than the Valley of the Kings. There are some 60 tombs, built during a 500 year period, from the 16th to the 11th century, B.C. Not all are open at the same time, and no cameras are allowed. I walked down into the past, to an underground mausoleum, gazing at the walls, every inch covered with drawings or bas-reliefs. Ah those lean, angular figures – was anyone pudgy in those days? In some, the colours are still there – faint, but you can see the blue, turquoise, yellow and reddish/brown hues. This valley is an UNESCO World Heritage Site, and has long been a magnet for tourists. It was here, in 1922, where the gold-filled tomb of the boy-king Tutankhamn, was discovered. I saw some tourists, but nowhere near the crowds and buses I had seen during my last visit. In fact, everywhere I went it seemed like off-season. Good for visitors, but disastrous for the economy.
As I looked out at the bare, tan-coloured mountains, danger seemed remote. Reality didn't seem to jive with all those warnings from friends and the media …
The next stop was a resort hotel, south of Sinai, near the city of Hurghada. No temples, just a white sandy coastline dotted with hotels. The Kempinski Hotel at Soma Bay led down to the beach through a series of terraces and pools. During high season, this translucent part of the Red Sea attracts snorkelers and divers. It's an easy trip from the chill of London, Frankfurt or Paris, and most tourists were European. The five-star hotel wasn't full, but there were enough tourists to make it seem normal. The lavish breakfast and dinner buffets were bustling. I didn't mind waiting for a made-to order omelet at breakfast or my choice of fish at dinner.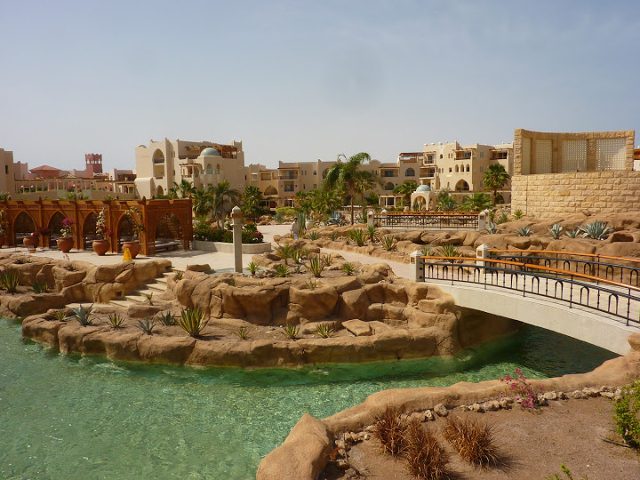 Our next and last stop was Cairo. Maybe it was our timing, but the worst thing we saw was the usual traffic jams. Just like Toronto's Don Valley Parkway, someone said, but without lanes. We drove to Giza and the Pyramids in a van brightly marked with the name of a tour operator – surely a target for anyone who wanted to attack tourists.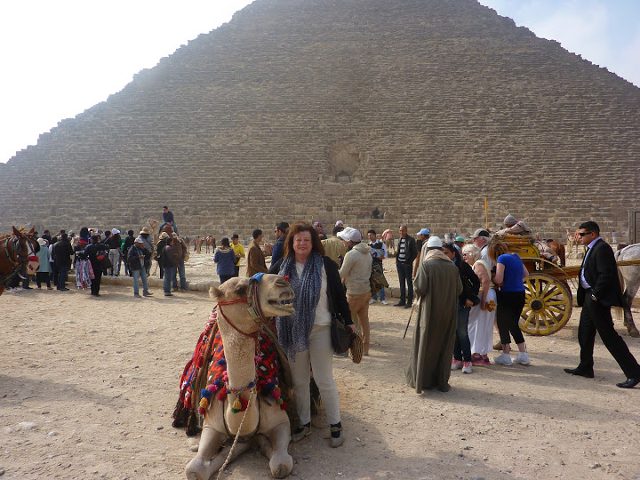 We walked around the pyramids, and stopped at the inscrutable Sphinx. Male or female, human or animal, benevolent or cruel, the crouching Sphinx delivers a kind of out-of-time jolt, no matter how many pictures or videos you have seen of it.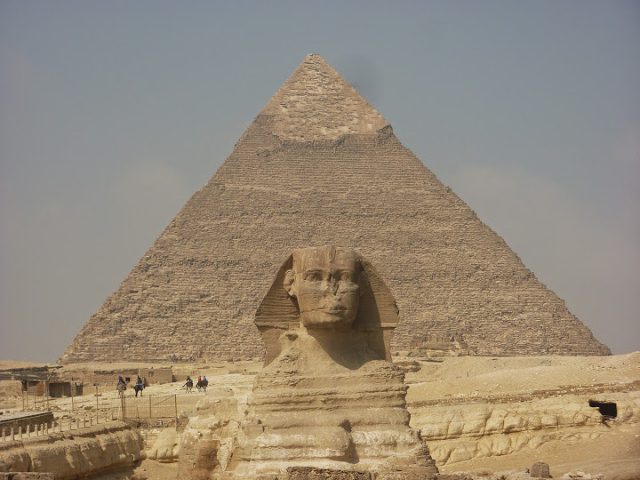 No danger here, just the camel drivers and postcard sellers, much more insistent than usual. "Look, there are no tourists, why you don't buy…..".  Here was a graphic example of the effects of the drop in tourism since 2010.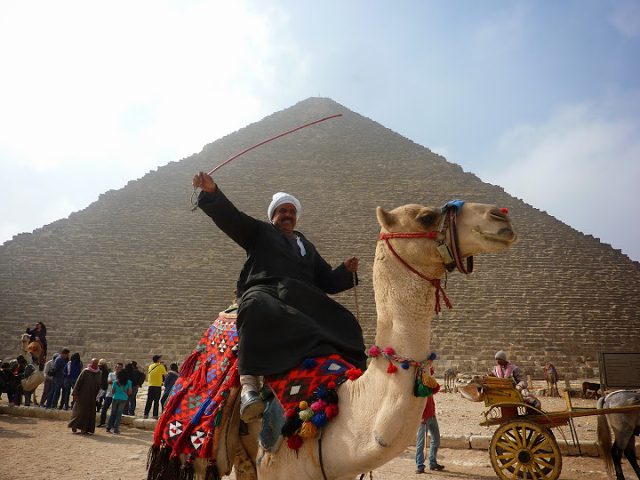 Back at the gleaming Fairmont Nile City Hotel, there seemed to be plenty of guests, many from Middle-Eastern countries. I saw women with their hair covered, wearing Prada sunglasses, skinny jeans and boots. Security was no doubt present, but not visible, except for the metal detector at the entrance.
And then the historical high point, the Egyptian Museum, the world's greatest collection of Egyptian antiquities.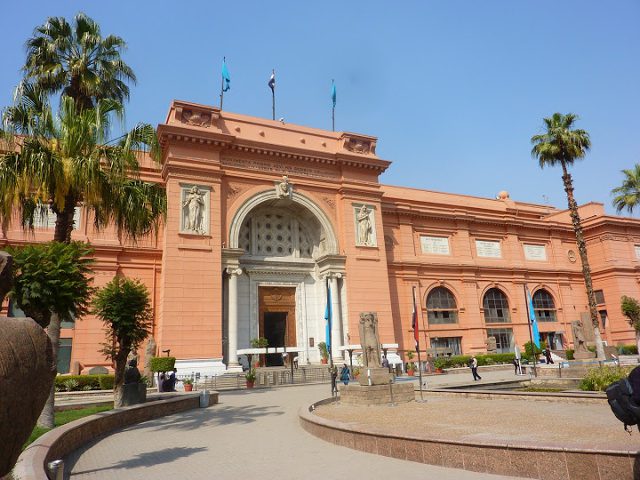 The museum is opposite Tahir Square, the epicenter of the Revolution. On a side street flanking the museum there were several tanks with soldiers leaning out of them. I took a photo of one – was that permitted? I guess so, because he waved back. A few steps away, and I was in the enchanted gardens of the museum. Then it was up the stairs to visit the treasures. I love this museum for more than its collections. There are the echoes in its old marble halls and the casual ways of displaying statues, like they are familiar objects rather than invaluable treasures. The display cases seemed circa the 1901 vintage of the museum itself, and the descriptions looked like they were written on a typewriter. The amount of gold – in head-dresses, collars, jewelry – is so abundant you can't believe it's real. In a year or so (this is Egypt), the museum will move into a brand new high-design building near the pyramids. It will be large enough to display the thousands of artifacts now in storage. It will be state of the art. But it won't be the same.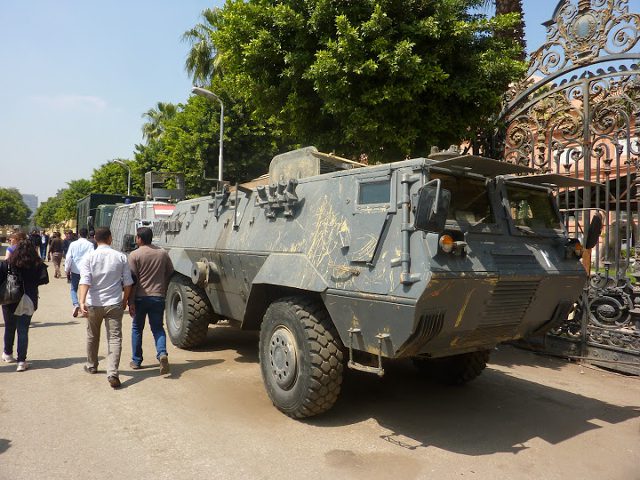 I had not come across demonstrations or attacks – perhaps I was lucky. But what about simply going downtown? My friends back home would be alarmed. But I couldn't leave Egypt without going. Accompanied by a photographer in the group, I took a cab from the hotel to Khan el-Khalili, the market, dating to the 1400's and open at night. The driver spoke little English, but the bellhop at the hotel explained to him where we were going. We arrived and asked the cabbie to wait for us. Fifteen minutes, I thought, just enough time to check out the scene. But right in front of us, was a spice shop, where a portly man spoke effortless English. Some cinnamon, saffron and pomegranate sauce later, we strolled the pedestrian-only streets and peered into other shops, now so noticeably absent of tourists. Yet there were plenty of locals, and we passed a crowded outdoor café where there was no seat to be had. My photography companion was draped in his big cameras, which just shouted "tourist". I was wearing jeans and a t-shirt – nothing covered my head or arms. At the tourist sites, women were wearing shorts.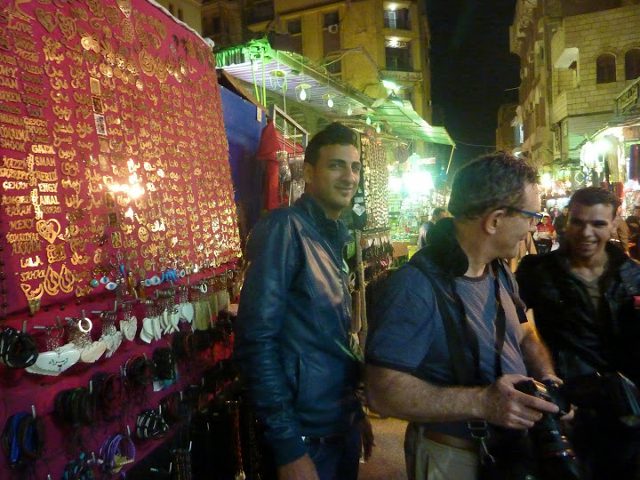 I bought a necklace from a handsome guy, who said he was studying business at a local university and did not pressure me to buy. Then came the wallet sellers, who sold my photographer companion a leather wallet I thought was too expensive. A few steps later, another guy sold me the same one at one-third the price. Then more pressure, lower and lower prices for wallets – take two wallets, take three. We walked back to the spice store, whereupon the owner announced in a low-key way that a sale was on – everything was suddenly reduced 50%. Of course we had bought what we wanted an hour before.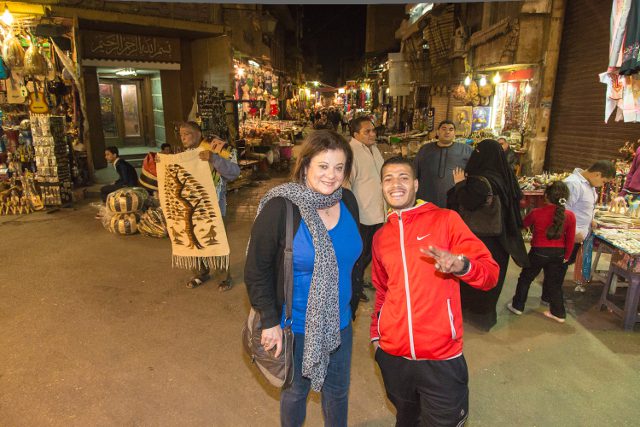 A semi-familiar man appeared: the cab driver. With one of those beguiling Egyptian grins, he led us back to the cab and drove us to the hotel. We paid him what we had agreed on. Cairo was still Cairo.