Thinking about going on an exchange to Germany? DO IT! It was one of the best decisions I've ever made and it's a lot easier than you might think.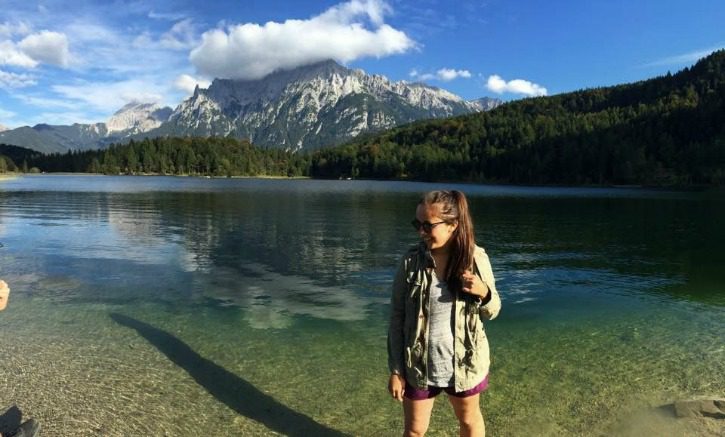 The first thing you need to do to prepare for an exchange to Germany is to grab a pen and paper. Or if you're feeling like part of this century open a Google doc (this is also a good way to be able to share information with others). I highly recommend this for my fellow travellers with helicopter parents.
Preparing for Germany is all about lists! You will literally need a list to remember all the lists you will have. Don't worry you'll learn to love lists, and stamps (but we'll get to that later).
The three main categories of this exciting listopia you are about to endeavour on are:
School
Travel Prep (+Pre Departure Checklist)
Arrival
Now each will vary a little depending on your exchange program and school!
Here is the general layout of what you will need to do …
---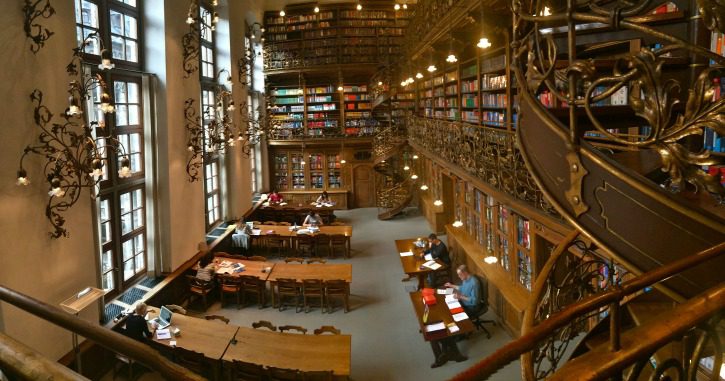 1. School
Applications
Applications will vary depending on your school / desired placement. Find out what you need to apply and you guessed it – make a list!
Common items for an exchange application list include:
Academic transcript
Essay on why you want to go on exchange
In person interview
Personal/ academic references
Top 3 school preferences
Acceptance Requirements
Once you have been accepted into your exchange / work program (Congratulations! You did it! You go girl/boy/however you chose to identify!) your home school will require things such as:
Letter of Permission (LOP)
Pre-departure workshop completion
Documentation from host university
Your host university – again this will vary, may send you an acceptance package / admission letter, and you may have to scan and email back some documents (e.g. confirmation of registration).
Grant / Bursary
See what grants/ bursaries are available to you. This is FREE MONEY. I repeat FREE MONEY. It may take ten forms and the blood of your enemies, but it's worth it! Too many of these programs are underused and they're easier to get than you think!
I went to Dalhousie and received a SWIF Bursary, and it was awesome. So see what your school has to offer and apply!
Seriously, apply.
Student Loans
For students with student loans the sooner you get these forms and phone calls done, the less time you will spend worrying about it, or have a concerned parent worrying about it.
---
2. Travel Prep
Visa
Check what kind of Visa you will be applying for – there are different types, but a study Visa is pretty simple. For most cases you will have to apply for your Visa in person in Germany – make sure to look up what sort of Visa you need (for instance, if you want to work) incase you are the rare case that needs to apply beforehand.
As a Canadian you can enter the country and stay for up to 90 days before you are kicked out (they most likely won't kick you out, but I wouldn't suggest testing that theory).
This also may come as a surprise, but your Visa will be the last thing you will get. This is due to the many many documents you need to have before you can apply for a Visa. (That list can be seen in #3 – I told you there were a lot of lists).
Flight
Find and book your flight as soon as possible! Fares are a fickle frog and change quickly. A personal favourite website for scanning flights is CheapOAir.
Also be sure to look at surrounding areas as they may be cheaper!
Insurance
Unless you have AMAZING insurance coverage you will have to purchase insurance in Germany. Your insurance plan has to be up to the German standard (which is very high) and then approved by them.
It also doesn't hurt to purchase additional travel insurance to cover costs such as lost luggage or flight cancellations.
Your home school may cover it or you can purchase plans from companies such as CAA, but be sure to compare quotes and benefits of each plan depending on your particular needs, and be sure to be upfront over any pre-existing medical issues or else that may void your insurance, if you do get sick or injured!
Credit / Debit Cards
Find out if you can take money out in Germany / your destination city. My bank didn't because why would my bank want me to access money when I'm terrified and alone in a new country, that I don't speak the language and am already stressed the f*** out? I'm not bitter or anything though.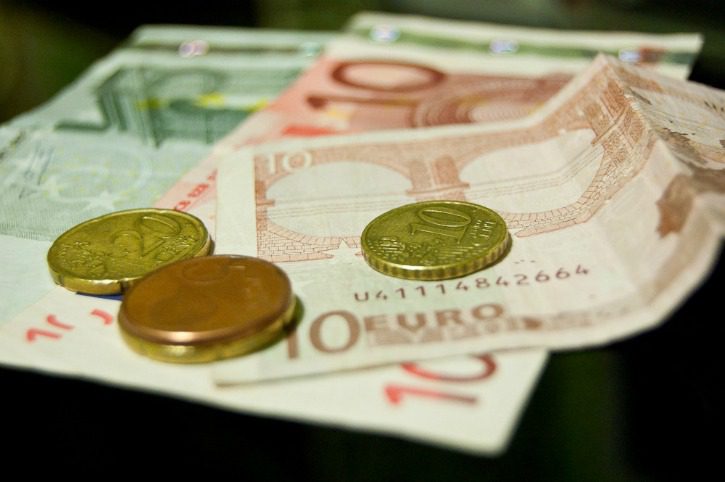 IMPORTANT: In Germany cash is king, most stores won't take credit cards and it is not as common to find debit in stores, so bring some geld (money).
Phone
European phone plans are cheap and easy to use. Make sure your phone is unlocked and have your plan cancelled after your arrival.
Or to be on the safe side get a 1 month travel plan to give you time to get a SIM Card and plan when you arrive. These can be found all over.  A personal favourite inexpensive plan of mine was Aldi Talk, which was available for purchase in Aldi grocery stores (a great discount grocery chain, if you're on a budget!).
Accommodation
If your host school has housing available for you – take it! It's a great way to meet people, it's usually affordable, and it's way easier than finding a place on your own.
If you have to find a place on your own, see if you know anyone in the area (or that can speak German) that can help you!
---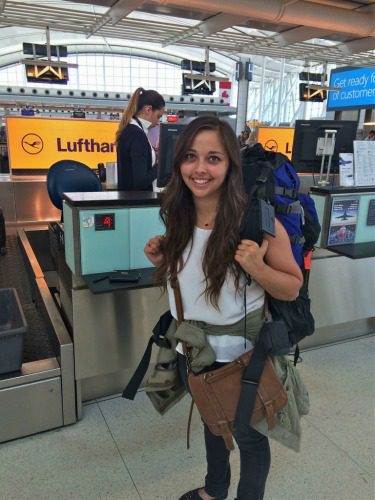 Pre Departure Checklist
This list is a 'guide' list before you take flight – make sure to add your own essentials! For example Pepto-Bismol was on mine. Sensitive tummied friends, I suggest you add it too.
Passport – this is the most important thing! You literally can't leave the country without it. And make sure it has not or is not about to expire.
Acceptance letter for school.
Copies of all your important documents.
Your clothes / toiletries / electronics + chargers / international plug adapter (like you'd forget those).
Euros! Remember cash is cool. But seriously you'll need it.
Plane essentials list (A list inside a list! Listception!): phone, laptop, headphones, book / kindle, chargers, passport, luxury travel pillow (treat yourself) …
---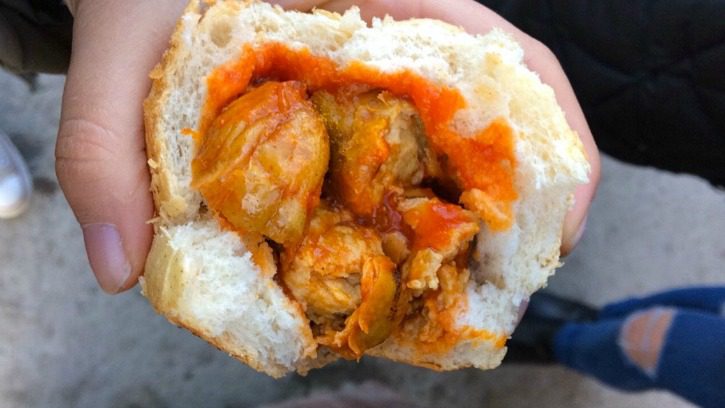 3. Arrival!
(Woo Hoo Hoo! You made it, you wonderful adventuring being!)
An Important Note on the List Below – some of these things HAVE to be done in order!  You can't move on to the next step without finishing the previous. Don't worry I've made you a fun visual list – A listual? Visuist? Whatever.
Housing
Establish a time beforehand to pick up your keys and sign whatever documents necessary to gain entry to your new home!
Residence Permit (necessary numero eins – wow, that was literally trilingual)
Go to the local Bürgerbüro, which is a registration office (it's easy to remember, because it sounds like Burger Bureau) and get a residence permit. Make sure to bring photo ID (i.e. your passport). This paper will get a stamp. Ensure they stamp it – or no one will accept it.
For students in Munich, this is the Kreisverwaltungsreferat (Germans love long words, get used to it) – also known as the KVR (or don't, and abbreviate them).
Bank Account (zwei-two)
You will need a German bank account. Deutsche Bank is the most popular, but there are many options. You will need your residence permit to get one.
Health Insurance (drei-three)
Go get your health insurance! This can most likely be done at your schools administration building. You will need your residence permit, bank information, and a small photo.
Matriculation (vier-four)
Go to your school's administration building to matriculate! This will receive many stamps. You will need (another list, I know, I'm excited too) your: acceptance letter, residence permit, bank account, and health insurance
UBahn Pass
Germany has awesome Ubahn (underground subway) and SBahn (above ground train) systems! Once you have matriculated, you can use your matriculation number on your student ID to get a discounted Ubahn pass.
Or if you want to keep fit, while eating all those sausages, get a bike! Local flee markets usually have lots!
VISA!
Wow, we finally made it here. Get your listy little heart ready for this one. The cost of a Visa is about 95€, but if you bring proof of your student loans / scholarship or bursary, they may wave the fee (so try it – 95 euros buys a lot of käsespätzle). Also many stamps to be had here.
*Proof of Sufficient Funds – you will need a bank account statement proving you can afford your stay in Germany. This is usually about 700 euros a month.
For my less wealthy friends, I did this by bringing in my bursary certificate, scholarship award certificate, and loan documentation.
---
All right the promised the list image… Lismage? Imagist? I give up.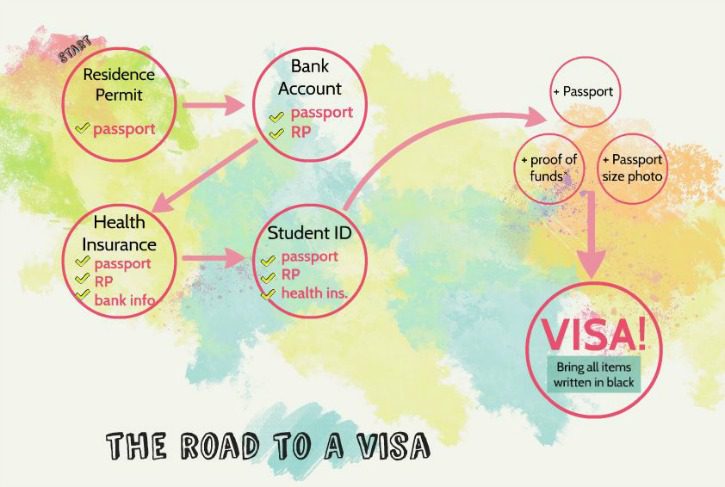 ---
Remember you don't have to do any of this alone! As a student there are tons of others that have to do the exact same things. So go together! It's a great way to make friends, while figuring out the best options available to you!
And that's it! Welcome to Deutschland, the land of delicious sausage, tasty beer, and the most reliable public transportation you didn't realize you were missing in your life!
Now go get a celebratory giant pretzel! You deserve it!