With its mystical landscapes, heartbreaking history, poetry and music, Ireland has a way of getting to you.

~ Jacqueline Swartz
Ireland Sings to the Soul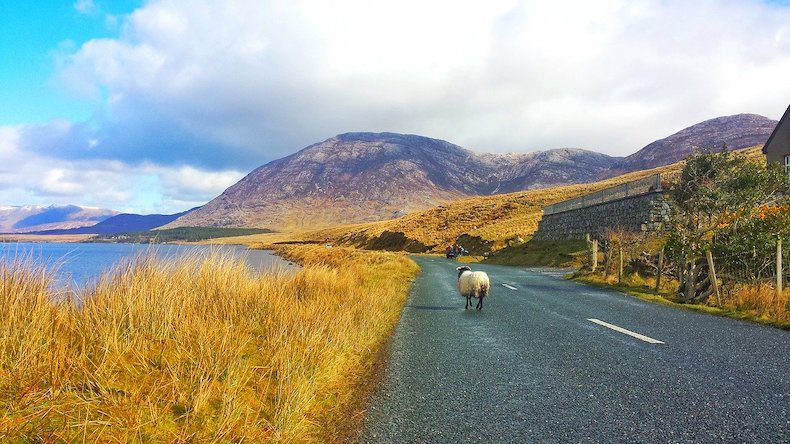 Ireland's impact comes from more than what you see or do – it's how the place makes you feel. I'm not talking about leprechauns and shamrocks but about Ireland's pathos and poetry, gloom and exhilaration.
Exploring the Wild Atlantic Way
My trip along a stretch of the 2300-mile area of Ireland named the Wild Atlantic Way (extending from County Donegal to County Cork), was a journey of windswept coasts, small towns and a history of heartbreak, with a soundtrack of Irish music and pounding surf. It began in Connemara. This Northwest corner of county Galway, is a place of desolate beauty, with lakes, looming mountains and boggy plains.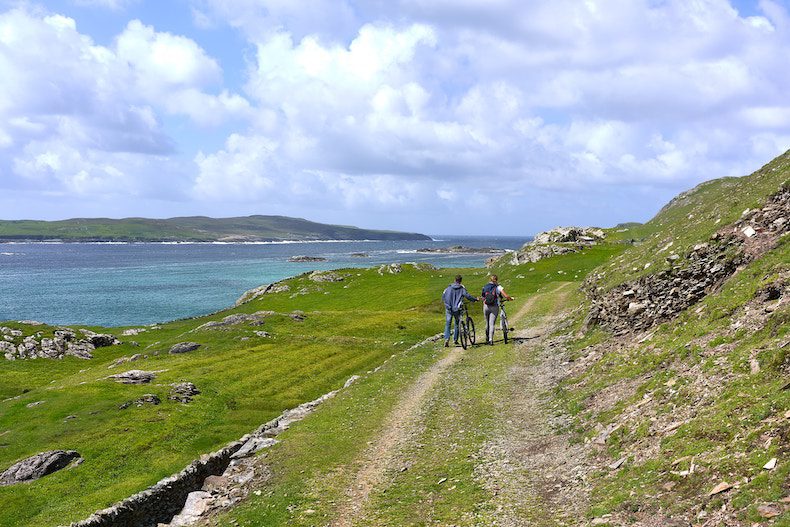 It is sometimes described as "old Ireland", but the name refers to more than quaint local traditions. Over 9,000 years ago, there were settlements here. Archaeologists are still pondering the stone structures, megalithic tombs and other hints of prehistory. The area came to be settled by Gaelic lords, who ruled until the mid-1600's. After years of battles, Ireland was conquered, with Oliver Cromwell leading the English forces.
Connenmara
This had lasting effects on Irish Catholic property ownership and inheritance, explained Martin Walsh, founder of the Connemara Heritage and History Centre, also known as Dan O'Hara's Homestead. Standing in the cramped cottage that once belonged to tenant farmer Dan O'Hara, Walsh, in calm but impassioned tones, said that between 1844 and 1862, 65,000 families were evicted. Many left Ireland, and half of those died during the voyage. The cottage itself had restrictions on the size of the doorways and windows, explained Walsh, and you could see that this had the effect of reminding the tenant farmers of their inferior status. The cottage is the centrepiece of the Connemara Heritage and History Centre, an open-air museum, with a restaurant and craft centre. Feeling chilled in the misty air, I had just the excuse to buy a woollen scarf.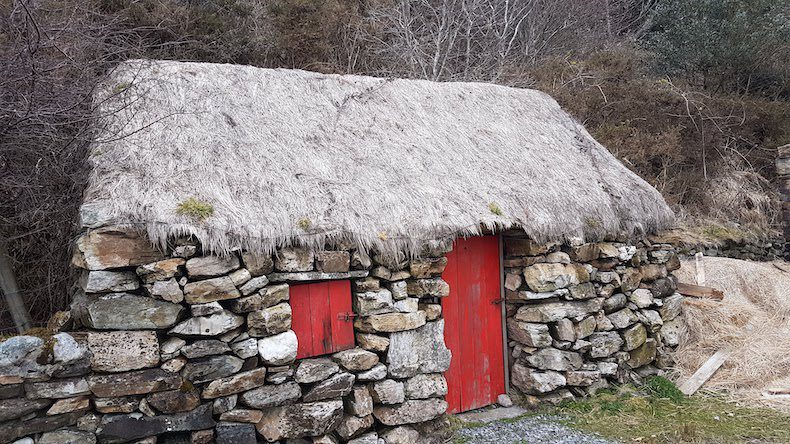 Inishbofin Island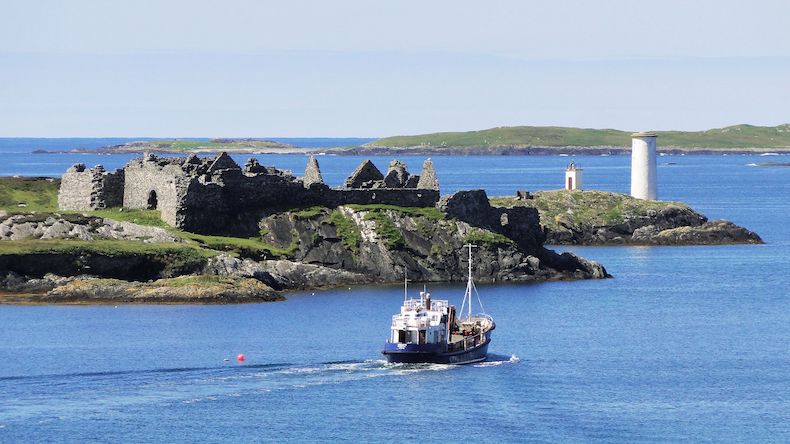 I would need it on the island of Inishbofin, windswept and so far west that it almost touches Europe. Walking paths loop around the island and take you past green hedges and stone walls – and everywhere there is the Atlantic Ocean. Visitors come for an easy getaway, only a half hour boat ride from the picturesque fishing town of Cleggan. There is sailing, angling and horse riding. And a history of conflict and clashes. The imposing stone structure is Oliver Cromwell's Fort, built in 1656 and used as a detention centre for Catholic clergy. After Charles II was restored to the throne, the barracks offered a lookout to spot French pirates. Today, Summer visitors come for Inishbofin's sandy beaches and blue waters. But this grey and windy day seemed to be more authentic than summer sunshine. Which led me to the convivial atmosphere of the bar at the family-run Doonmore Hotel. A hangout for locals and visitors, the bar and the restaurant have exceptional food – locally caught fish and hearty soups… But what drew me was the music – accordion, guitar and fiddle… No stage, just a few musicians sitting around playing. And a rapt audience enjoying some cozy craic in this out of the way island.
Clifden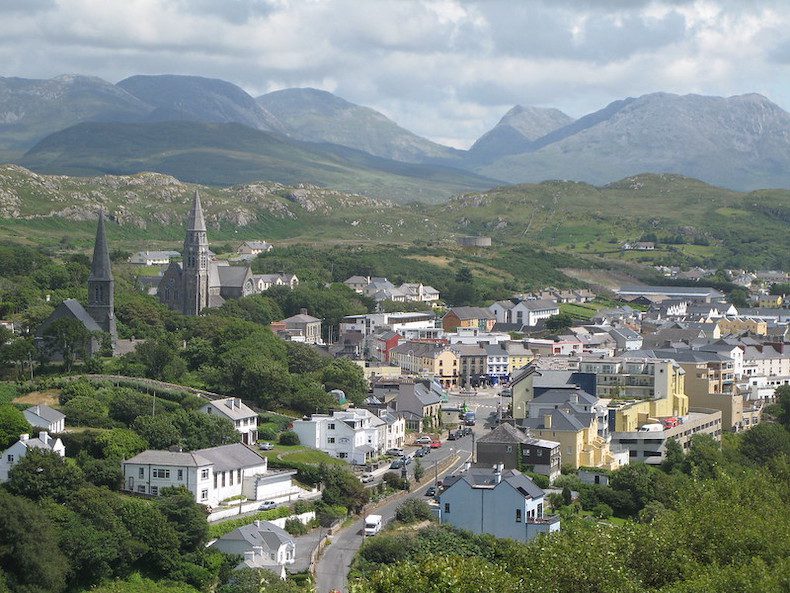 Back on the mainland, I headed for the town of Clifden, where Guglielmo Marconi built his transatlantic telegraph station and transmitted the first wireless message to its sister station in Glace Bay, Nova Scotia in 1907. Today, Clifden has only a little over 2000 inhabitants, but that number swells with visitors who browse the colourfully painted storefronts of its picturesque streets and attend the town's arts festivals. There's even a festival of the beloved Connemara Pony – with, of course, a sideshow of Irish dancing.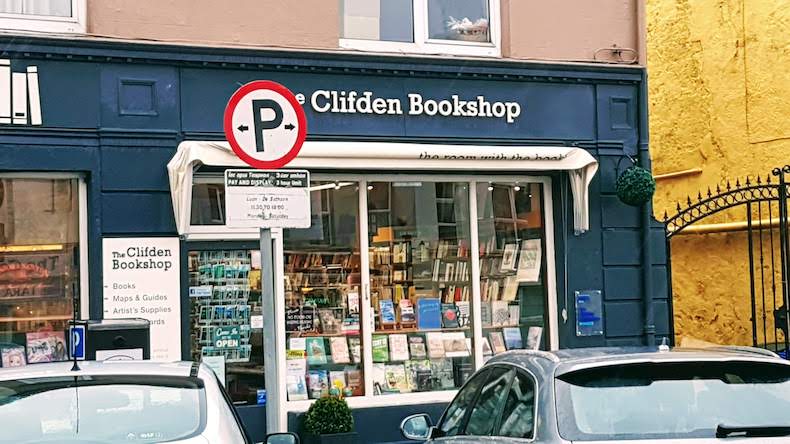 … But the journey does not stop there, stay tuned, as the adventure continues with Connemara, Ireland : A Tale of Two Castles and an Epic Visit to Dublin.
---
Tell us about your experiences along Ireland's Wild Atlantic Way?
Have you visited Ireland's Wild Atlantic Way? We'd love to hear about your experiences and favourite spots in the comments below.
---
Planning a trip along Ireland's Wild Atlantic Way? Pin this post for reference.