What is life without indulgence from time to time.
Indulgence can come in many different forms ~ a glass of exquisite wine, a rather scrumptious piece of chocolate, or simply stealing a quiet moment in the sunshine.  For me, one of my favourite indulgences is a good soak.  I love relaxing in hot water and wallowing all my worries away.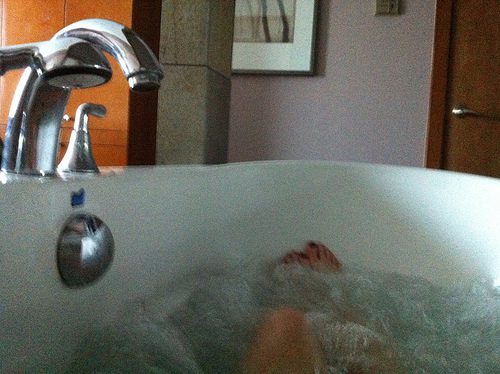 It is for this reason and the a bit of Whistler inspiration that encouraged me to indulge in the column 'The World's Best Soaks'.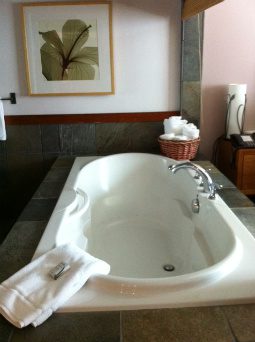 The inspiration came in the form of the most incredible tub, and after a rather bruised tail bone from my first snowboarding lesson, I have got to say it was sent from the heavens.  The tub in question was this one at Le Chamois in Whistler, BC, Canada.  Pure blissful indulgence, that I've been having lovely flashbacks to all week, as the beautiful snow has been falling on Canada.
Hoping if I win the Whistler Sabbatical, that I get this tub in a cat friendly room.
For another indulgent Whistler, BC soak, check out Scandinave Spa. Pure bliss!
So curious, where's your best soak been, whether in a tub, at a spa, or in some hot springs?
Kisses,
Emme xoxo