One of my favourite indulgences in Switzerland is the Swiss breakfast. I dream about these and get excited to discover the breakfast spread in each new hotel or lodging that I stay at. After seeing my friend Kelly recently getting even more excited than me, I decided to write about this great pleasure in my life.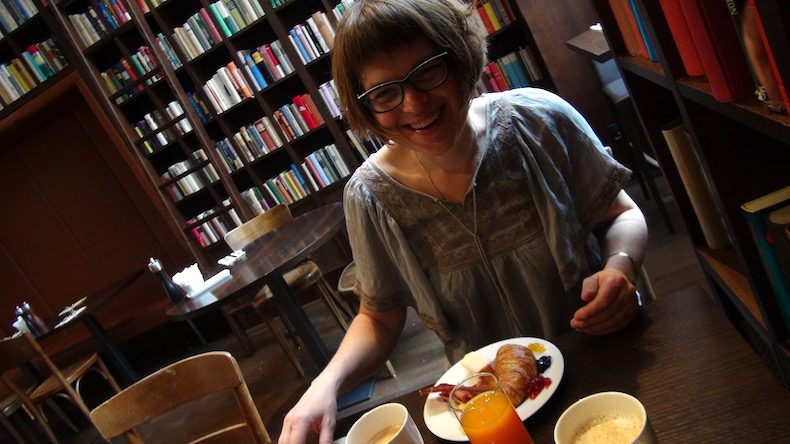 For me, my typical Swiss breakfast involves Bircher Müesli, CHEESE, freshly baked breads and pastries, homemade jam, juice, and coffee. That always looks and tastes slightly different at each place I stay, so purely to indulge my Swiss breakfast dreaming, I have shared some of my favourite Swiss breakfasts below, and where I've enjoyed them.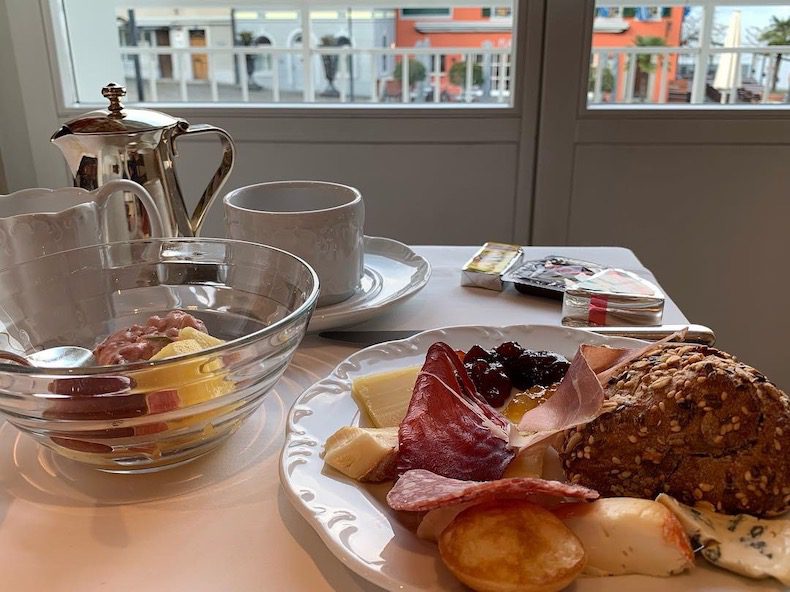 Also, due to recent scribblings about Switzerland, our Emme Rogers felt inspired to experiment with making her own Bircher Müesli. If you care to do the same, Emme has shared her recipe for Bircher Müesli here.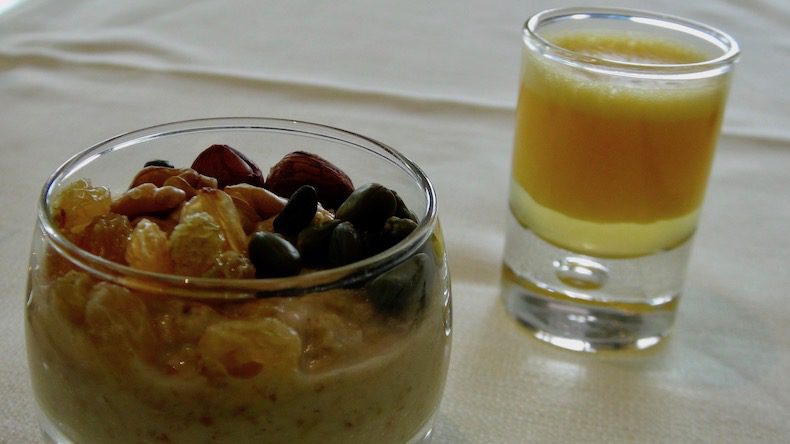 Okay, on to those Swiss breakfasts! Here are a few that I've enjoyed:
Zürich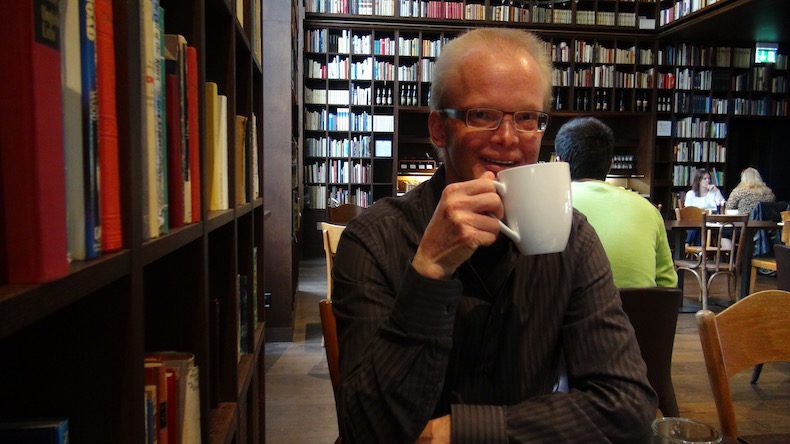 What more could one want then a breakfast surrounded by books? From personal experience at the B2 Boutique Hotel + Spa, the answer to that is a breakfast of croissants, local jams, fine cheese, cured meats, and smoked fish. Their berry Bircher Müesli is also one of my favourite müesli in my travels around Switzerland.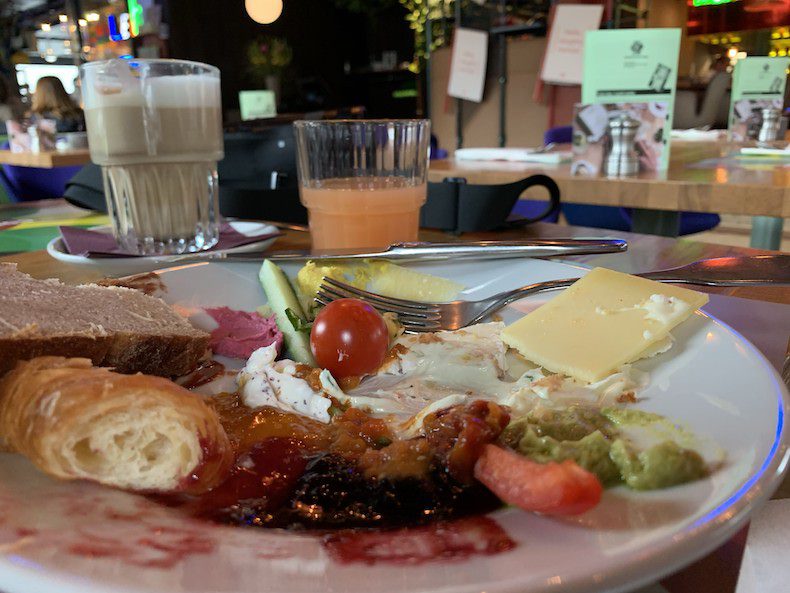 Breakfast at NENI is both the tastiest and most unique of the Swiss breakfasts that I've enjoyed to date. It includes all of my Swiss favourites, along with Eastern Mediterranean cuisine, meaning there are dips galore. This made for a very happy, tasty and messy last breakfast on my last visit to Switzerland.
One of my big regrets on my last trip to Switzerland was not having dinner at NENI on one of my nights in Zürich.
Zug
I have to admit with my stay at the Hotel Löwen am See coinciding with my first time back in Switzerland in 5-years, my eyes were bulging out of my head at the breakfast buffet. It definitely satisfied, making me very happy to be back in Switzerland.
Lake Lucerne Region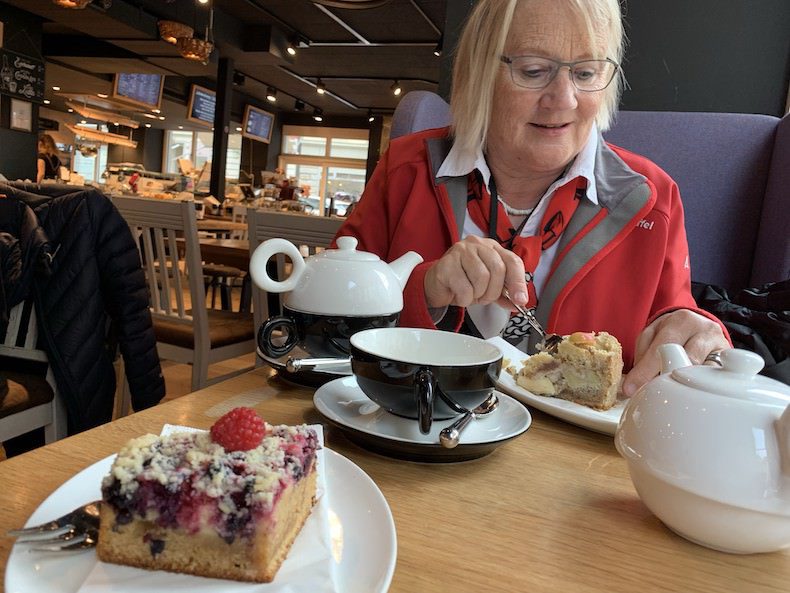 In Canada, for most of us, when we hear Dr. Oetker , we think frozen pizza. As far as frozen pizza goes in Canada, Dr. Oetker's is thought to be better quality, but I wouldn't think of them for delectable baked goodies. Was I ever wrong. In March 2017, the very first Dr. Oetker Café was created – Café Gugelhupf in Lucerne. It is a warm, cozy space, filled with delectable looking and tasting baked goods. The kind of space you could enjoy a breakfast of baked goodies while people watching or buried in a good conversation yourself.
While I happily enjoyed all my favourite Swiss breakfast treats at Ameron Luzern Hotel Flora, the item that got me super excited at breakfast here, was the honey comb. I have never seen a honey comb server quite like this one, and I have to admit I was kind of nerding out to it. The honey from it did not disappoint either. Licking my lips at the thought!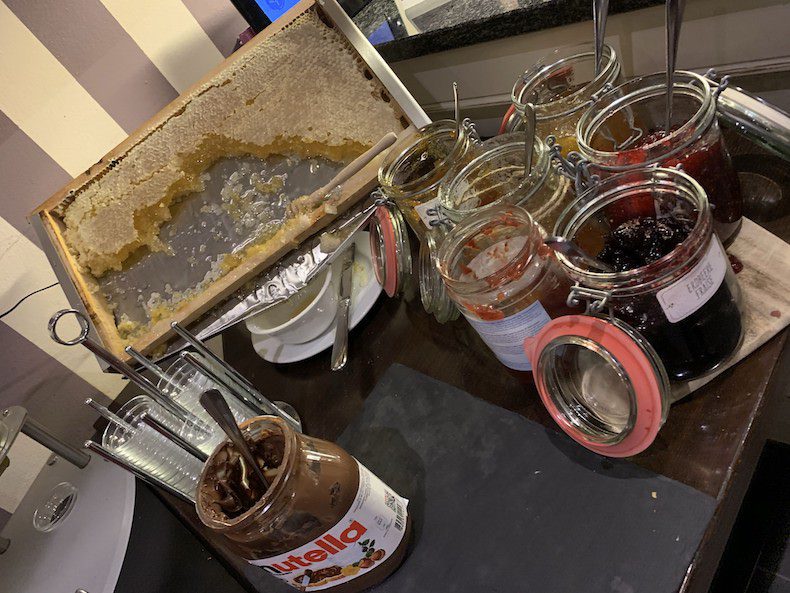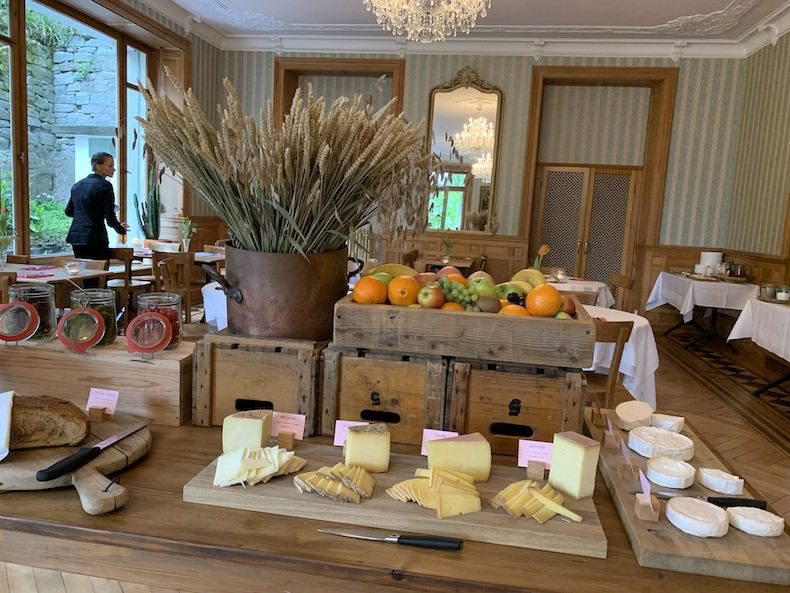 One of my favourite Swiss breakfasts and Swiss stays thus far, has been at Beau Séjour : Le Petit Grand Hotel, as it feels like home to me. The thing I loved about breakfast here, aside from good food, was that they marked all the tasty cheeses and meats with their origins. Being a food nerd, this allowed me to travel throughout Switzerland with my taste buds during breakfast, as well as revisited a couple of my favourite cheeses from my visit to Normandy, France, earlier in my travels.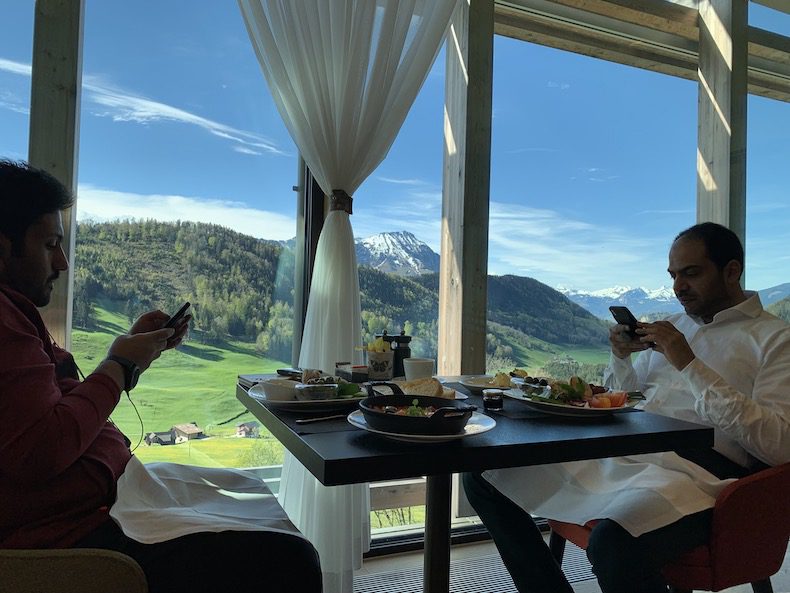 The Verbena Restaurant's breakfast definitely ranks among my favourite breakfast buffets of all time, and is certainly one of the finest breakfast views I've ever enjoyed. You can even watch the cows at the dairy farm from which Bürgenstock Resort's own cheese is made, while you eat. While there were so many tasty things to enjoy, my favourite items of their breakfast buffet are the yogurt with the fruit compotes. So delicious!
Ticino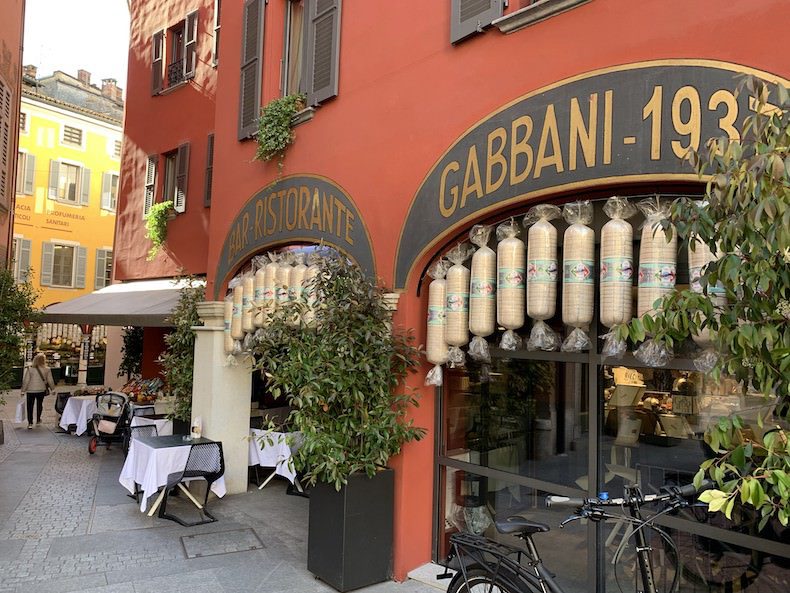 Gabbani Gastronomia is the kind of local market that made me wish I was staying in a place nearby for at least a week, so as to stock up on local breakfast, picnic, and snack foods. While visiting on the Lugano Food and Wine Tour, I got to sample the torta di pane, which was both tasty and filling. You can learn more about it from the video below.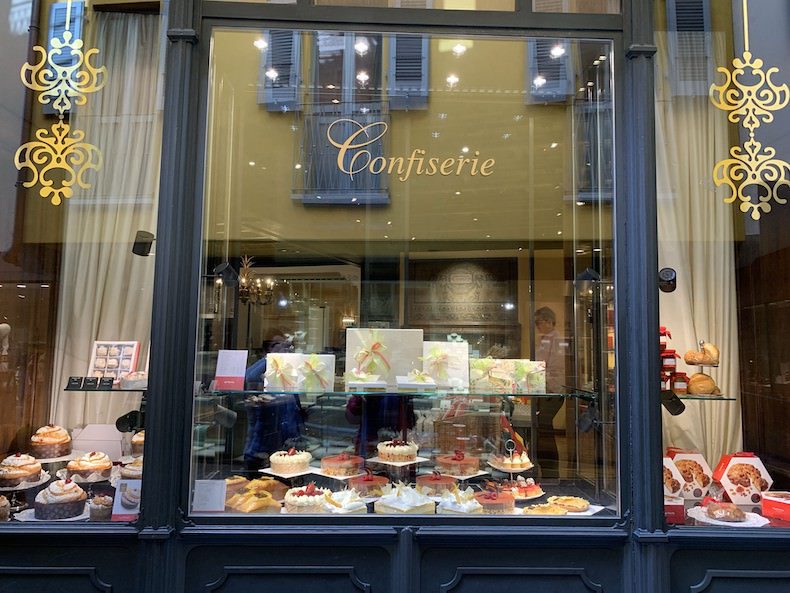 The Grand Café Al Porto was a lovely stop on the Lugano Food and Wine Tour – for the delicate and delectable pastries, fine coffee, all the incredible goodies to ogle at (not only do they taste delicious, but they are also beautiful works of art), the gorgeous architecture, and the history of the space. If you are a World War history buff, visit the Cenacolo Fiorentino where on March 3rd, 1945 the very first secret meeting between German officers and Allied exponents was held.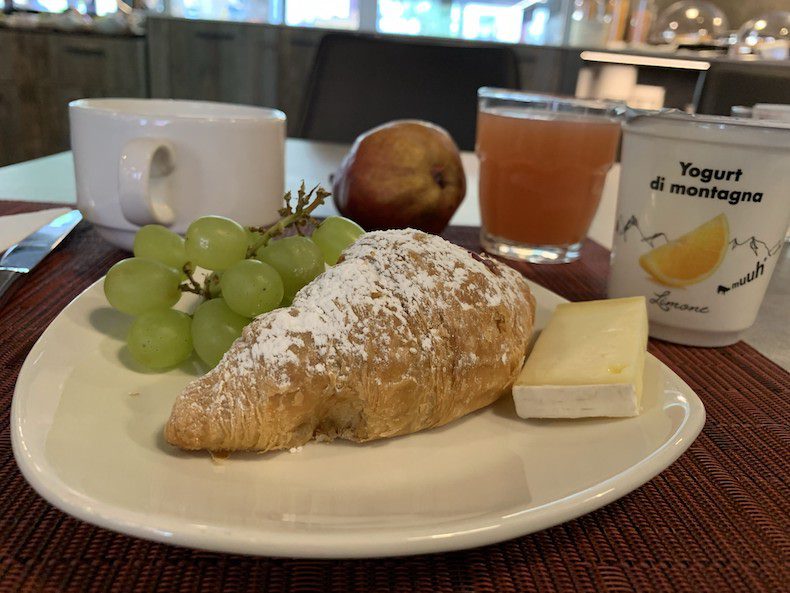 After the Lugano Food and Wine Tour, the fun thing about breakfast at Ristorante Internazionale was looking for the Ticino flag on my breakfast foods, to signify that they were a locally produced product. I also enjoyed all the different cakes, tortes, and other baked goods that breakfast here holds.
Basel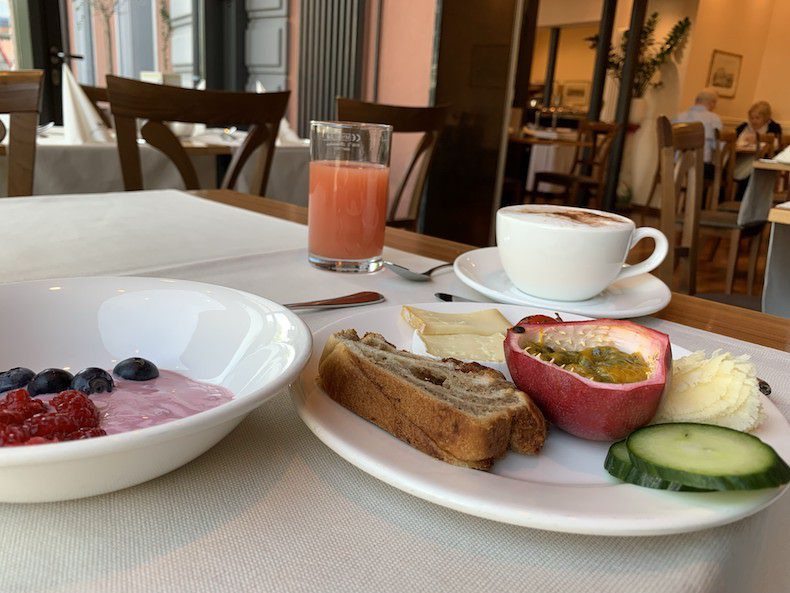 When I visited Hotel Schweizerhof Basel, there was some major construction happening out front, yet inside it was a relaxing oasis of tranquility. Breakfast here was a fine example of this, as a tucked myself away in a little garden room amongst the orchids. There I enjoyed a most delicious Swiss breakfast, complimented by their fantastic selection of fruit.
Bern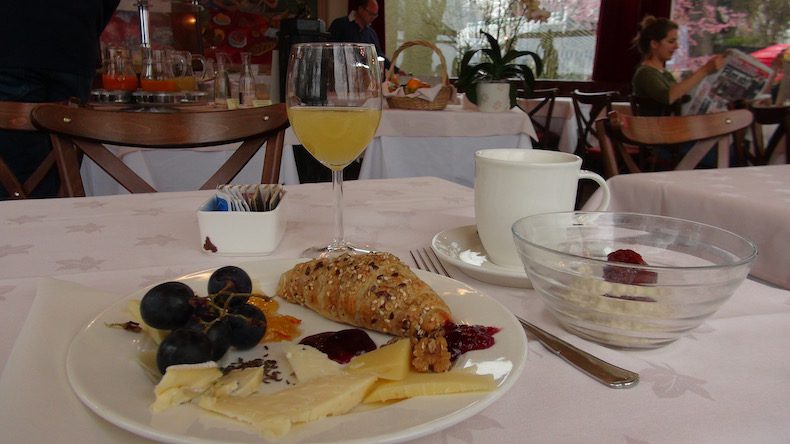 For a cheese lover, breakfast at Hotel Innere Enge is all kinds of exciting as they have a CHEESE CHEST. This had me envisioning my Dad and my Grandfather there at the table with me, as aside from the jazz memorabilia that they would have loved, a cheese chest would have had them just a blissfully happy as me.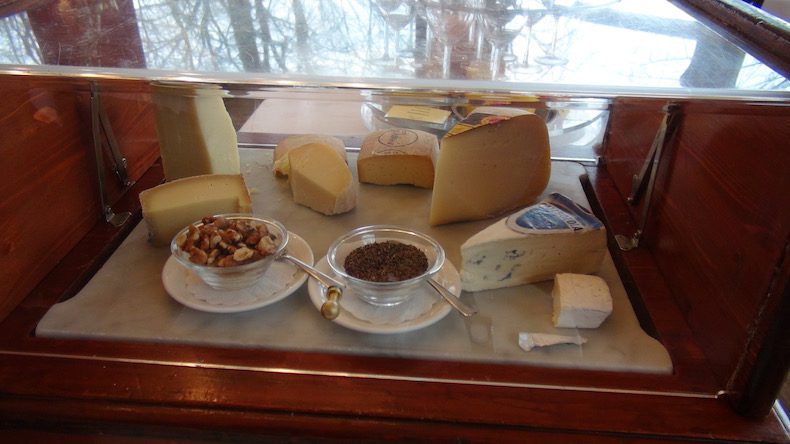 Fribourg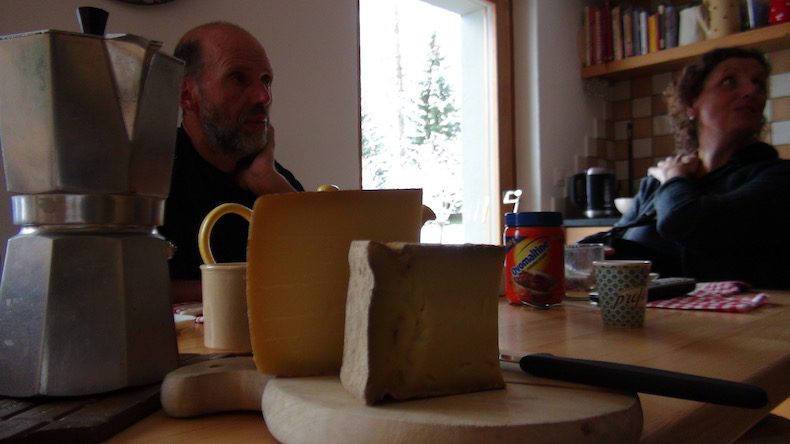 It was such at delight to be a guest of Jacques and Eliane Murith at their farmhouse in Gruyère. I arrived on a difficult day for them, as Eliane had broken her arm, yet they welcomed me with warmth at a time that was not easy for them. The next day it was a privilege to share in the stories of their alpine chalet, where they spent part of their year with their Gruyère cows, whose cheese I enjoyed at breakfast with the family along with homemade bread, butter and jam.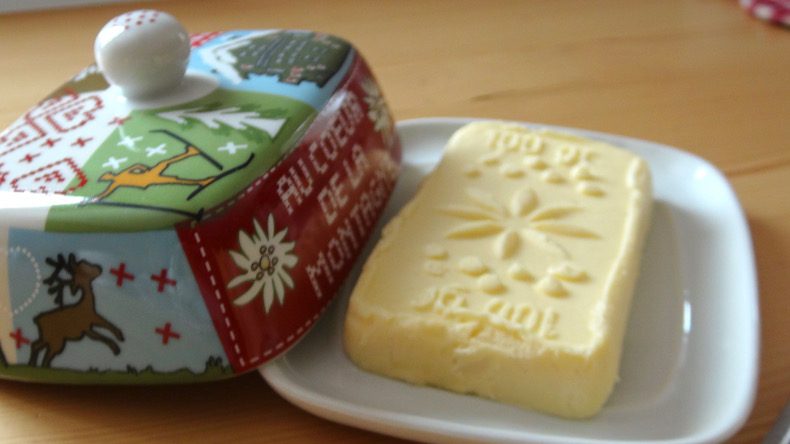 Vevey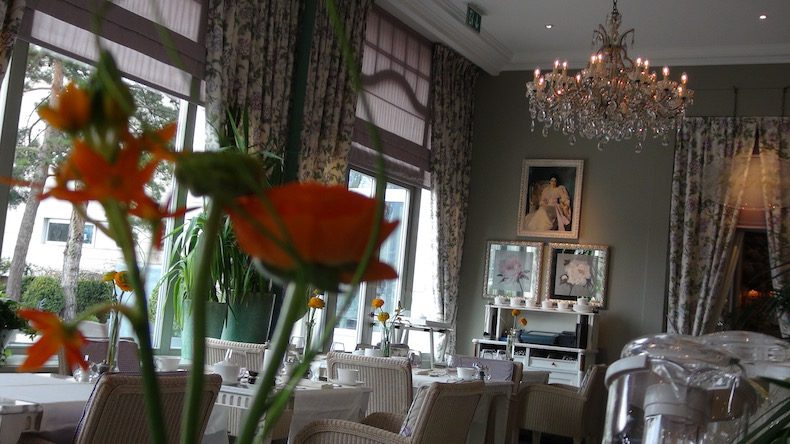 This was one of those mornings where I wished I had a larger appetite. I felt like I was dining like royalty, which given this was Grand Hôtel du Lac, it is possible that I was indeed dining alongside royalty. They had perhaps one of the most wonderful breakfast buffets that I have ever laid my eyes upon. Along with the best Bircher Müesli that I have tried to date, once I had already eaten more than my stomach could handle, I was asked if they could make me something special from the kitchen. While I wanted to say, "Oui, s'il vous plaît!" I knew I could not indulge in another bite. I think I felt as disappointed by my "Non, merci." as the waiter looked.
Geneva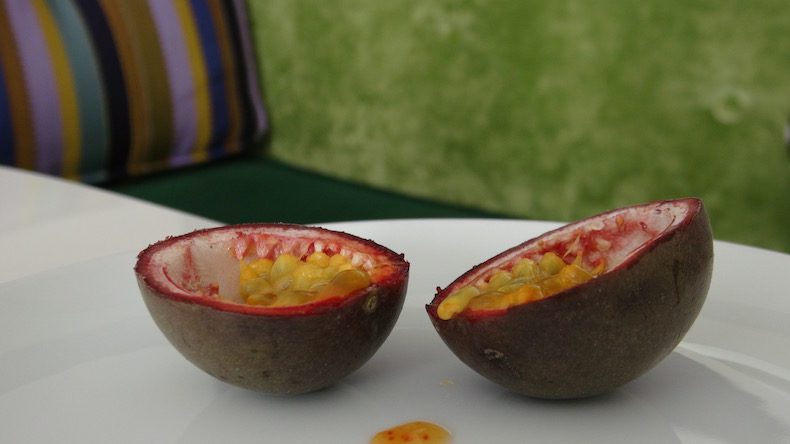 While I enjoyed many of my favourite breakfast foods at Hôtel N'vY, the thing that got me really excited here, was all the fresh fruit, whose colours complimented those of this vibrant, playful hotel.
And now with writing this, I've gone and made myself hungry for yummy Swiss goodness that I do not have here at home in Canada.
Do you have a favourite place in Switzerland for breakfast? Tell us about it in the comments below to create more Swiss breakfast dreaming.
---
Want to remember one of these spots to enjoy breakfast at in Switzerland? Pin this post for later.